2nd February
Over the last week we have continued to celebrate and investigate the Chinese New Year.
They made a dragon out of junk modelling!
We have looked at animal patterns, matching animals and their markings. We then coloured animals with their own unique patterns.
We created our own poems based on the poem 'Me' by Swapna Haddow (taken from The book of Hopes).
We all decided on our goals for the next few weeks and added those to a display in the classroom
Our story this week was Handa's Hen, we ordered and retold the story, then matched captions with pictures.
In Maths we looked at how we can represent numbers to 8, as well as talking about height and length.
Outside the children recorded the football and tennis scores on the board.
In phonics we have this week covered ur, ow, oi and ear; you will find the handwriting and reading sheets in your child's book bag.
In French the children have learnt how to say the names of family members.
We were also excite to have some special guests reading us some lovely stories! A huge thank you to all those who gave up their time.
Teacher's welcome
Hello everyone and welcome back to the new Spring term!
We hope you are well-rested after the Christmas break and are ready for all the exciting learning adventures we have planned!
I'm very excited to see you all this week and look forward to getting to know you all.
This half term we will be exploring the story of Handa's Surprise and Handa's Hen and extending our learning in all areas around the themes of the stories.
Please remember to bring in PE kits for Wednesday's PE session, there is still plenty of practise needed for those important dressing and undressing skills! There were a few name tags that were fading by the end of last term, so please re-write names back into all your child's uniform - we know they are usually pretty good at sniffing out there own washing smells but sadly we aren't and we already have a few items in the lost property box. The box is in the cloakroom area, so come and take a look if you have lost something. As usual, we will send PE kits home at the end of term for washing.
Please check out the blog for regular updates on what the children have been up to. If you have any worries or concerns or just need a quick chat, please catch myself or one of my team at drop off or collection time, or alternatively, email myself or the office to make a longer appointment.
Kind regards.
Mrs McKay
Mrs Green
Please note that this email is not monitored during the school day as I am teaching. My admin time will be after the school day ends at 3pm, Monday to Friday. For all immediate enquiries please contact office@brillschool.org.uk
Year R Blog
Class of 2022/2023
23rd January 2023
Week 3-Chinese New Year
I hope you're all as excited as I am about the revamped classroom.
This week we are celebrating Chinese New Year and there is a Chinese takeaway role play are which the children are really enjoying.
We continue to explore life in other countries, and really appreciate the maps being brought in, which allows us to compare the different types of maps and atlases.
We have also had some more fun exploring ice outside - please remember to send in gloves and hats, thank you.
In English we have started writing short captions for pictures the children have made from Handa's Surprise - some are on display as you come into the classroom.
In phonics this week we are focussing on oo/oo, or and ar; a sheet will come home to help you support your child with this.
In maths we are looking at ways of making 5 by separating groups of 5 items into two groups eg 1+4. We also matched numerals and number representation, and have done some sorting using different criteria (eg colour, size, shape) as well as making patterns.
18th January 2023
Week 2 - It's been chilly!
Another week underway and what amazing weather for exploring!
We have had lots of fun with the ice building igloos and ice palaces.
We have continued to read Handa's Surprise, and have had fun acting out the story
We discussed maps and atlases and drew a journey route for Handa, and for our trip to school.
We have learnt more new sounds in phonics (sheets sent home). In maths we continue to look at numbers to 5, thinking about comparing numbers and looking at more/less in reference to quantities as well as capacity and weight.
We have talked about the Zones of Regulation and the children are now ready to use them throughout our day.
We are learning lots of new calming and self regulation techniques alongside this.
I have sent home some home learning ideas on the info sheet, and would love to see what you have been up to :)
11th January 2023
Week 1 - Handa's Surprise
Hello everyone, I'm excited to do my first blog for you all
We have had a lovely start to the half term and I am delighted with how well the children have settled in.
Already the children have been busy exploring and of course learning on the way.
We are reading the story of Handa's Surprise and we made some puppets to re-tell the story.
We will also be using the story to discuss different environments in different countries
In maths we have been learning to recognise the numeral zero as meaning nothing or none, and revising the names and orders of the numbers from 0-10. We played lots of games with numbers outside, including throwing ne=beanbags onto the numbers. We have also been looking at repeating patterns and created some of these outside.
In phonics we have this week covered qu ch sh th and ng. Please practice the 'th' sound with your children as they need to remember to stick their tongue out to make this sound :)
Our new tricky words were he she by my
You will have noticed a few changes in the morning - as children come in we will now be asking them to write their names for self registration; we are also setting up a zones of regulation board so children can express how they are feeling as they come into school and throughout the day. We will be talking to them about how to manage their emotions and behaviours when they are outside of the 'green' zone.
Some other pieces of information/requests:
PE will now take place on a Friday
Please can you support your child in learning to do up their own zips
Please ensure children have hats and gloves in school as we go outside every day, regardless of the weather
There will be some changes to the homework over the next 2 weeks - we will be sending home a sheet with all the sounds and tricky words for you to go through rather than individual ones. I will also create a list of home learning suggestions that you may wish to do.
During the week of 16th Jan I will be listening to all children read so you may not get their reading folder back on Monday as this will take some time; thank you for your patience.
Due to a technical hitch, photos to follow !
The Class R Team
Humph the Camel and more...
22nd December
Our final week of term has been a very busy one to say the least!
We started the week on a very chilly note with our first fall of Winter snow - how exciting! It was great fun being outside although we didn't have too much luck building a snowman - maybe the wrong kind of snow or perhaps just too icy!
Humph the Camel
Wow - what a performance that was and we couldn't have been more proud of the children! They rose to the challenge and brought it all to the stage on performance day, shining like the stars they are, as they remembered their lines and delighted us with their singing!
A visit from the man in red!
Yes, just a flying visit at this busy time but Father Christmas made time to pop to see us here at school to say a quick hello to the children and leave a little early present for the children to open...
Party Fun!
A final treat was in order for our last 10 pair of pants reward of the year...and so a very well deserved Christmas party was to be had! There was lots of fun and games on the day - Well done Year R you truly are superstars!
A final goodbye!
It is with great sadness that I say a final goodbye to this wonderful class of children (and parents)! It has been an absolute pleasure to be a part of this special time in the children's life and I know they will go on to be amazing in whatever they chose to become.
A huge, heartfelt thank you for your very kind words and wishes as well as the wonderful gifts and cards you gave me - I was so sad not to have said a proper goodbye on our last day but will keep in touch with everyone in school...
Let's see where the adventure takes us!!
Au revoir for now...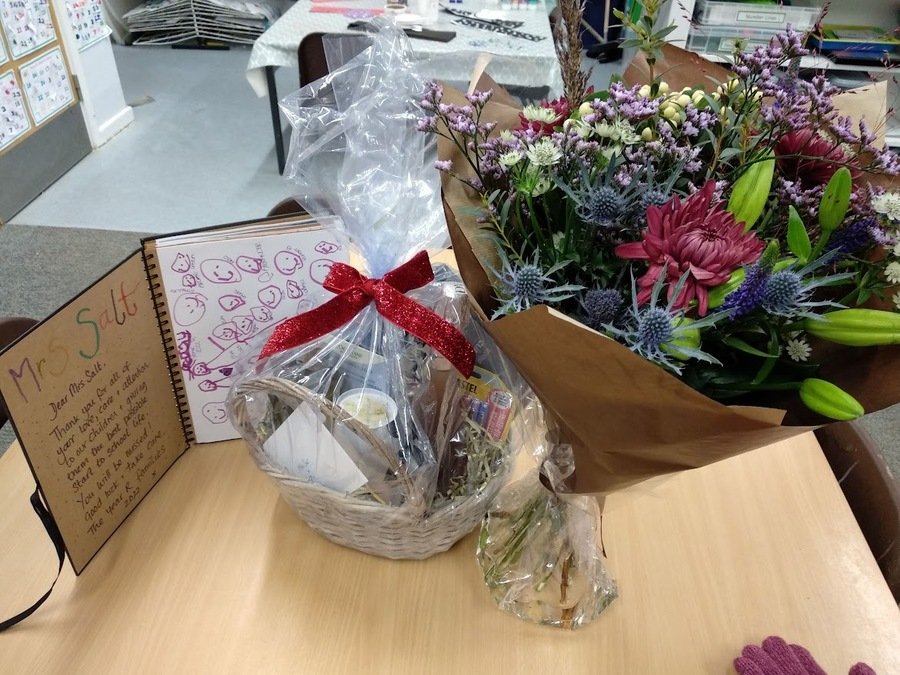 Christmas is coming to school!
11th December
This week we have been very busy getting ready for our performance next week. The children have been busy practising their lines and remembering when to say them - fingers crossed it will all come together on the day!
Please check out the homework folders where we have given you details of their play parts and any lines they may have to learn. Please don't worry if they are proving tricky to remember, we have more practises to come this week and the children are great at helping one another out should anything be forgot!
Elsewhere our role play has been turned into a Christmas wrapping station. Much fun was had wrapping up all manner of gifts although it was too tempting for some not to open them up, so I think we will have more wrapping to do next week too! The wrapping station provides more of the important fine motor skills the children need to develop the muscles in their hands in preparation for writing - so bring on the wrapping. Some are getting very good at this, I might have to sneak in some of my own parcels that need wrapping!
The Christmas tree is now up and has been eagerly filled with Christmas baubles. Now that the chilly weather seems to be with us, our roaring fire has kept us warm in spirit and helped us give out some special reminders about how to keep ourselves safe around real fires and naked flames.
Our Christmas calendar countdowns continue, with now just 14 sleeps to go. We have been busy sorting beads and making tree and room decorations. We also had time to play with the festive fuzzy felt and telling stories about what might be happening in the Christmas scenes. On Friday the room smelt fabulous from the Gingerbread playdough and the little gingerbread people looked good enough to eat, we had to remind ourselves it was not for eating!
Thank you for all your generous donations to Save the Children, the guys all looked amazing in their Christmas jumpers - it put us all in a Christmassy mood and I could be heard singing to myself, "it's beginning to look a lot like Christmas."
The early wintery weather gave us lots of fun in the garden this week. There were some huge sheets of ice created by the the change in temperature and it wasn't long before they were all shattered into tiny little pieces!
Please remember to send the children in warm coats, hats and gloves as we do go out in all weathers and it's always best to be prepared!
Next week we have our school PSHE showcase - ours is Tuesday at 8.45 and afterwards, you are welcome to tour the special door displays for each of the other year groups.
We also look forward to welcoming you to our Year R performance of 'Humph the Camel' at 2.15pm on Wednesday.
See you then!
This week's Learning
4th December
We started the week with a community event to plant some tree saplings. We made our way to the playing fields with Mrs Keeping and Mrs Gibson-Harris in the glorious sunshine and helped to plant a dozen or so silver birch trees. We shall be following their growth over the coming weeks, months and years and hope they manage to survive.
We have also been putting our efforts into the upcoming Christmas festivities and looking at some of the traditions we take part in at this time. We read a non-fiction book that explained how the first Christmas came about and the children talked about some of their own Christmas traditions.
We made a great start to our Christmas here in school and have been busy making calendars in time for the start of advent. There was a lot of snipping to be done as the children cut out and glued on the Christmas pictures they had chosen for their calendar, it was not an easy job and perseverance was the order of the day as cutting out 25 little squares was no mean feat! We have seen some super progress in their cutting skills over the past few weeks and made a point of highlighting this to the children. It is good for them to see how the effort and practise they put in to learning new skills pays off, well done guys, your calendars look great!
The classroom has now become very Christmassy and the Advent countdown has begun - only 21 days to go, just in case you have forgotten! Calendars have been hung and opening up the day's number has become the highlight of the day, I wonder if it's got anything to do with the little sweetie treat they have when they open it up?
Thank you for the super Christmas cards, it has been lovely sharing them with them with the class at carpet times. The children have been very proud to show off their work and they make the classroom look so Christmassy!
We have been reading lots of Nativity books to give us a good understanding of the story of the first Christmas. All of the books were similar but we noticed how some of them mentioned 'wise men' whilst other books call them 'kings'. Some said Mary and Joseph were sent to Bethlehem to be counted whilst other said to pay taxes. We talked about how the story was first told a very long time ago in the bible and how people have since retold the story in their own words and made small changes. We searched on the map to find Bethlehem and looked at the journey Mary and Joseph would have taken. We talked about the past and how cars and engines had not yet been invented. Poor Mary had to travel from Nazareth to Bethlehem on a Donkey! We decided it wouldn't have been very comfortable, especially as it would have taken about 31 hours and that was without any rest stops! No wonder Mary was very tired!
The children's voices have been in full flow and ringing out around the classroom as they practise our Christmas songs - you may have perhaps heard some of them at home too? We have been sorting parts and costumes and think we should have all that we need. Now it's just time to practise, practise, practise in readiness for the upcoming performance!!
Diwali
We have been finishing off our Diwali celebrations this week too. The Diya lamps have been painted and are now looking spectacular.
We also took part in a Diwali dance workshop with Mrs White. She taught us some special Indian dance moves. We split into two group and performed the dance for each other. The children had the chance to critique each other's dances. it was so lovely to hear the lovely compliments they gave each other. We discovered how wonderful it was to hear nice things about your efforts and it made everyone think about how powerful their words were.
Next week...
We will be concentrating on our Christmas performance and have some Christmas art activities planned.
Our Diwali Celebrations
20th November
This week we have been finding out about the Hindi Festival of Diwali - The Festival of Lights which is traditionally celebrated around the end of October/November time every year. We read a non-fiction book that explained more about this special festival and watched a clip about a little girl - Jessica, who was preparing for Diwali. I wonder if the children can tell you about any of the traditions linked to this festival?
https://www.bbc.co.uk/cbeebies/watch/lets-celebrate-diwali
We discovered how there are many traditions that are similar to celebrations we are more familiar with. We learnt that people often clean and tidy their houses, prepare special foods, dress up and wear new clothes, welcome friends and family to visit, give presents, dance and celebrate together and visit special places of worship.
We made lots of Rangoli patterns with a range of different medium - chalks, gel pens and play dough and seeds, and read some traditional stories, linked to the festival, that told tales of good over evil. The stories have been retold through many generations and explain how Rama saved Princess Sita from the evil Ravana - the ten headed, twenty armed Demon King. We heard how diya lamps were lit to help guide the couple back home and have become an important symbol of the Diwali celebrations.
We made some diya lamps of our own out of clay and carved out special patterns using the tools. As soon as they are dry enough we will be painting and decorating them too.
In PE we changed the lyrics to our song, 'there was a princess long ago', and retold the story of Rama and Sita through song and dance. We also had great fun re-enacting the story outdoors too. The children gathered some costumes for the characters of Rama, Sita, Ravana and Hanuman the Monkey king. Then built a bridge out of the large wooden blocks to rescue Sita from the Island of Lanka - it was lots of fun!
In the Cbeebies film clip, we saw Jessica's hands being decorated with Mehndi patterns using Henna. The children had a go at designing some hand patterns of their own and then, on Friday, we were lucky enough to have two special artists in who decorated the children's hands with their chosen design. Thank you to Miss Worthington and Abby Stanyer (our year 5 teacher's sister) who donated their time to help us. The children sat so beautifully whilst having their hands decorated, although it was quite tricky waiting for them to dry. Hopefully not too many were smudged?!
The designs should now be showing up more boldly but will fade and disappear over the next few days.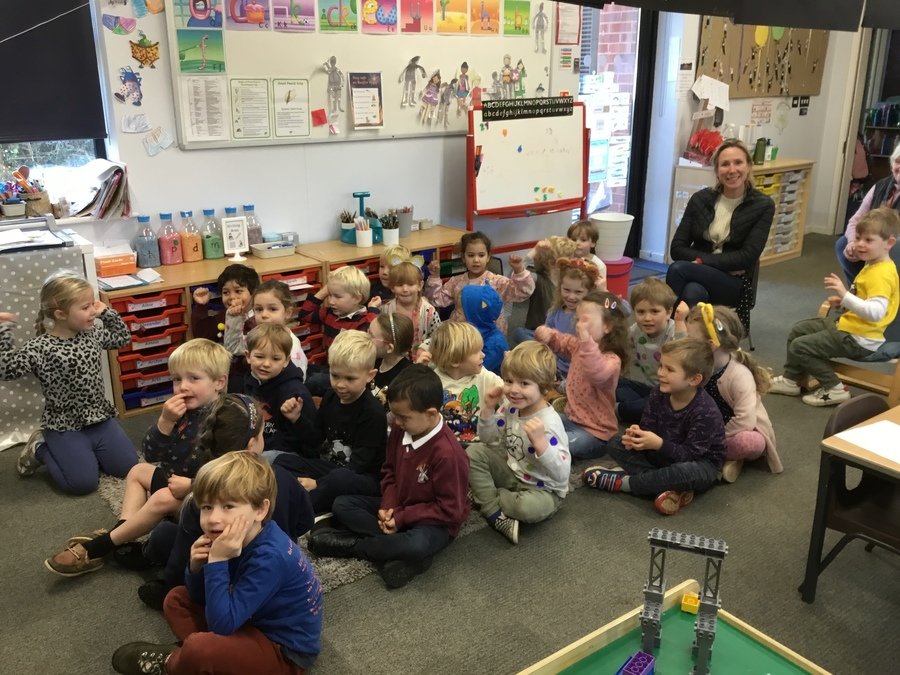 Thank you so much for supporting our Mufti day and the generous donations to the Children in Need charity.
We took some time out of our day to think of others less fortunate than ourselves and read the story - It's a no Money Day.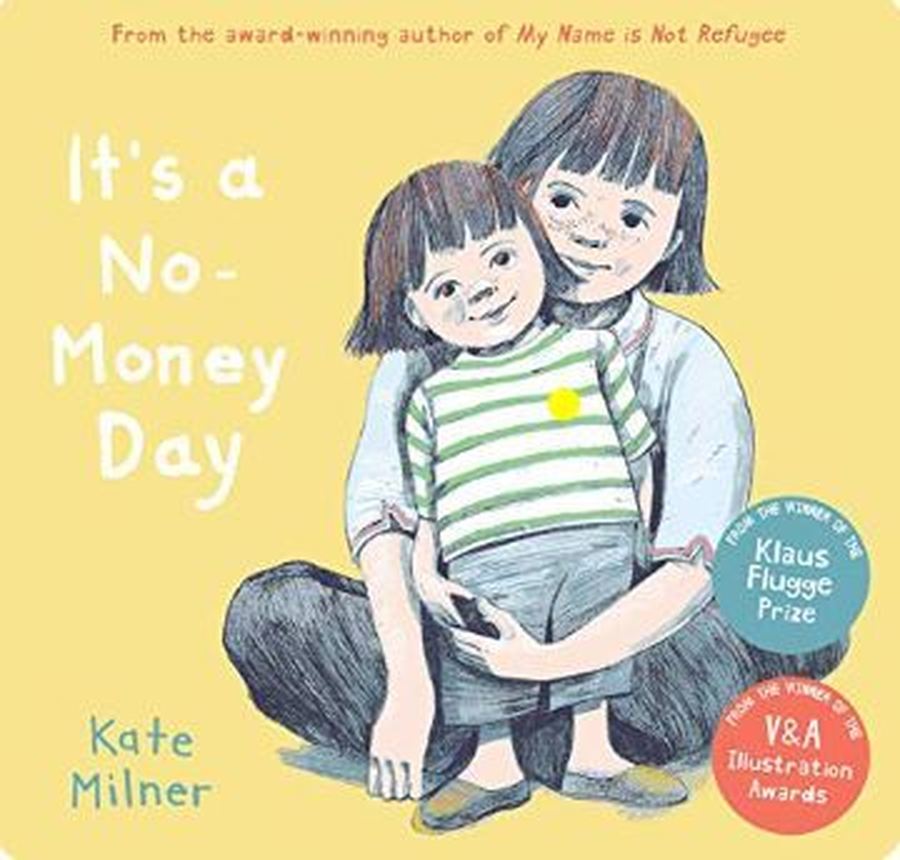 This is a super story that explains a little boy's experiences of having no money and his visit to the food bank. The children were very concerned that the family had no food in their cupboards and no money to buy any supplies from the supermarket. Many of them offered to bring in money from their Money box's at home - how sweet, we were very touched by their compassion. We suggested they might look out for the food bank donation box next time they go out shopping with you.
Wow moments
It has been lovely sharing the children's wow moments this week and noting how they plump up with pride as they stand at the front and explain their achievements. Please keep them coming in; it is a great opportunity to show the children how hard work and practise pays off and is a great incentive for others to keep trying. As we say in class - you may not be able to do it YET, but don't give up!
Next week we will be finishing off our Diya lamps and learning some Indian dance moves.
Happy weekend!
Our castle role play has again been very popular this week. The children have been thinking about the people that would have lived inside the castle and looking more closely at the life of a knight. The classroom has been peppered with card and paper cuttings as the children made split pin knights and Kings and Queens. We saw some super perseverance as the children fine-tuned their snipping actions to cut around some intricate shapes. We also looked at the armour the knights would wear to protect themselves in battle and some of the terrible weapons they would fight with. We decided to have a go at making some shields so we could protect ourselves from harm. We utilised all of the cereal boxes from the junk modelling box and using a template cut out shield shapes, before decorating them with our chosen colours and affixing a special grip on the back. This proved so popular that we ran out of cardboard boxes so we would be very grateful for donations of junk modelling to fill up our stock.
The fun continued outside as the children donned their armour and rode their (hobby) horses into battle. We even managed to continue the castle theme in PE as we donned costumes and acted out the song, 'There was a princess long ago'...
In maths we have been looking at shapes and positional language. We learnt that circles have a single curved side and look the same whichever way they are held and when large, small or medium sized. However, triangles can look very different! We learnt to check to see how many sides and corners the shape has and if it has three, it's a triangle. We have made pictures with the shape and tap tap boards and went on a shape hunt outside looking for circles and triangles. Once we started looking, we were amazed at how many there were!
Remembrance Day
We feel it is important for the children to understand the relevance of Remembrance day and to find out what happened in the past and how people fought for their country and made sacrifices to ensure its people were safe from harm.
We have spoken about the soldiers and service people who are still here to protect us and the importance of talking with one another to solve our problems to ensure we can be peaceful - just as we do in class. We watched a special film clip that simply explains what Remembrance day is about and the traditions we take part in.
Click below to see the clip - it talks specifically about the Scottish Poppy appeal but is perfectly pitched for younger children.
We made some individual poppies and also joined together in a collaborative piece of art to make a giant stained glass inspired poppy, that we hope to display with pride - when the gallon of glue we used has eventually set!
We read a beautiful book called 'Where the poppies now grow' about two lifelong friends who went to war together. We decided they must have been very frightened and had to be very brave. The children were very intrigued as to why one of the friends was now in a wheelchair and had a leg missing. We had some interesting conversations about how this might have happened and how such injuries might have have impacted their lives! We also read a true story of a dog, Sergeant Stubby, who served bravely in the First World War, sniffing out gas attacks, catching spies and winning the hearts of his fellow soldiers. He was awarded some special medals for the bravery and courage he showed. We took some time to think about ways to show courage (one of our special school values) and made some medals of our own.
Although many of our discussions were based on events that have happened in the past, we also took the opportunity to discuss wars that are happening across the world in the present day. Some children referenced the fighting that is taking place in the Ukraine at the moment and we read a book about a cat who was living in Aleppo in Syria and the changes he experienced in his life when the fighting began and how his life was transformed by kindness. We looked on a map to see how the fighting is a long long way away and to reassure everyone that we were safe here in our country.
On Friday we walked to the Brill war memorial and found the names of the soldiers from Brill who had died in the Great War. It was sad to read many names from the same family had died - we also discovered how some of the children shared the same surnames as the soldiers and wondered if they might be related.
At eleven o clock, on the eleventh day of the eleventh month, we joined the rest of the country in a two minute silence to pay our respects to the people who fought or were injured in battle and to those that are still fighting to keep us safe. We wore our poppies with pride and stood very still and silent. We were very proud of the respect the children displayed.
Thank you for all your donations to our school Poppy appeal.
Here is a special poem we learnt.
Let's celebrate...
This week we had some very excited children looking forward to their Halloween and Firework celebrations.
We had lots of 'fine motor' fun playing with the pumpkins, using push pins to make shape outlines and then connecting them with the stretchy bands. We also practised our hand/eye co-ordination as we tapped (or more like, banged) in some golf tees with the hammers. Getting the tees out at the end of the day was more of a challenge - I think some of the children didn't know their own strength!
The fun continued outside too, as we made shapes(and webs) with the elastic bands on a larger scale with the giant Geo board.
Our role play castle has been a bit hit this week too. The children have been queueing up to write their name on the waiting list for a turn and have been practising practical number work as they ensured there were only six children in the area at any one time. They were quick to calculate how many more could come and join them to make up the numbers or how many they needed to banish when there were too many!
We read some non-fiction books to find out what a castle would have looked like in the past and made some comparisons to life in the present. With no electricity long ago, we could see how making a fire was very important for cooking, for lighting torches to see your way and to keep warm in those draughty old castles. So it is possible to manage without electricity but everyday life, such as managing the chores, took a lot of work and there was little time for play!
The dressing up costumes were a bit hit and setting up the table with goblets and tankards ready for the regular banquets has been lots of fun. The king and queen have amassed quite a collection of jewellery and gem stones which are being regularly counted and well-guarded to ensure they are safe from enemy hands. Invitations to the ball are being written and crowns are being made - what a busy and industrious castle we have had!
In PE this week, we set off in our rocket ships and zoomed off into space to explore the galaxy. We passed stars and moons, asteroids and planets before landing back on earth. We also had a great time exercising with the parachute as we explored how to manipulate the fabric and move safely on top of the slippery surface. We pretended the plastic balls were fireworks exploding into the sky and tried our best to send them as far into the sky as we possible could - it was hard work but great fun! I am not sure about the children, but the adults certainly had achy arms the next day! It was a super way to practise everyone's gross motor skills too!
We finished the week with a look at the origins of Bonfire night and how we 'Remember, Remember the Fifth of November'. We learnt about Guy Fawkes and how he tried to blow up the Houses of Parliament with gunpowder. We discovered that fireworks can be very dangerous and discussed some important safety rules to keep ourselves (and our pets) safe as we take part in this weekend's events. We watched a video of last year's fireworks and talked through some family traditions connected to this celebration. We then made some firework pictures to represent what we had seen, it was a perfect excuse to break out the glitter! We hope you enjoyed the weekend displays and all managed to keep yourselves safe!
'This is Me' Board
As we now move onto our new topic - 'Let's Celebrate', I just wanted to document the children's self-portraits and showcase their own thoughts and hopes for their future learning. Our board and the children's 'All about me' books featured part of our school's Humanities showcase last term, which fits within the EYFS curriculum area of Understanding the World as our children investigate...
Past and present events within their lives and the lives of people around them.

Similarities and differences between themselves and others within their families, different communities and traditions across the world.

The similarities and differences between places, objects and living things.

Features of their environment and how they can vary from one another.
We will now take the time to reflect on their hopes and aim to develop opportunities over the coming weeks and months to make their learning hopes a reality.
Our learning week
Well done everyone - you have all made it to the end of this rather long, seven week term and the half term is holiday is now upon us - how quickly has the time zoomed past!
The children have settled into school life so incredibly well and have made a fabulous start to life here at Brill. Our only blip has been the dreaded Chicken Pox which has just about claimed everyone in class but does now mean we should all be fit and well for next term's fun!
Unfortunately our page was down last week so here is a round up of the last couple of week's learning.
Following on from our 'Leaf Man' story, we have been using natural materials to make our very own leaf man inspired pictures.
Come and take a look...
In maths, we looked at patterns and had lots of fun making repeated patterns with the toys and equipment both inside the classroom and outdoors.
We have also been looking more closely at early numbers and their differing representations. For example, the number three can be represented by the digit three, the written word three, three dots on a dice, three items placed together, three fingers, as well as a range of different counting manipulatives such as our 'Numicon' counters. We have been sorting, matching and comparing numbers 1, 2 and 3 and practising our 'subitising' skills. Subitising is the ability to instantly recognise the amount of items in a group without having to count them. We played games looking at who had more and sometimes found we had chosen the same number. We had lots of fun playing a 'Lava game' with the large blocks and hoops, throwing a dice to move one, two or three spaces and to see who could make it across the playground to safety first! We even started to problem solve by calculating the moves we needed to win and to see whether or not we could win on the next throw of the dice!
Here are the links to the smart board games we played this week.
https://www.topmarks.co.uk/learning-to-count/ladybird-spots
https://www.topmarks.co.uk/learning-to-count/underwater-counting
https://www.topmarks.co.uk/learning-to-count/todays-number-up-to-20
The children were amazing during our Harvest Festival visit to the church and showcased our three golden rules as they were Ready, Respectful and Safe throughout and earned themselves their final two pairs of underpants for exemplary behaviour - great job guys! I will email you all next week with more details of the chosen reward once we have mapped out next week's activities.
We took this opportunity to practise using a tally to record one another's choice of reward and later on when deciding on ideas for our new role play area. (We also made sure we caught up with those who missed out on last time's ice-lolly treat- yum yum!)
We hope you enjoy the 'Skittles' challenge this week. The children all seemed very keen to have a go - I wonder why? I look forward to seeing the results and wonder if it will be the same colour that has the most or fewest in each packet?
In preparation for our Harvest festival, we read a non-fiction book to explain what happened in early Harvest festivals and how we celebrate them today. We also read the story of 'The Scarecrows Wedding' and had much fun joining in with the 'Dingle Dangle Scarecrow' song and making split scarecrows that helped us to practise our cutting skills.
And finally - here we are making the most of the Autumn weather - leaf collections, puddles, pirate ship play (ooh arrrh - me hearties) and more.
Have a wonderful half term everyone!
Our Autumn Walk & More
What a beautiful start to the week we had, just perfect for an Autumn walk. We donned our wellies and ventured out to discover what our senses would reveal whilst out in the great outdoors. We spotted many signs of Autumn as the leaves deposited a multitude of sticks, leaves, berries and seeds for us to collect. We even spotted some items of rubbish and made sure we picked them up so no harm would come to the wildlife. We were hoping to see some of the creatures we had read about in our Autumn Non-fiction book but sadly no squirrels, hedgehogs, foxes or mice were evident, although we did spot a dead vole and wondered how and why it had died! Fortunately the children had lots of tales to tell of sightings in your gardens and even one in the carpark of a restaurant chain - haha! Well, the animals do need to get their food from somewhere and scraps are easily found in this environment.
As we walked around, we listened out for sounds in the environment and heard a tractor, a 'helicopter' (actually a microlight aircraft), children's voices, birds whistling, rustling leaves, machines from the workmen revamping the park, a car engine, a dog barking and much more.
What a busy morning.
Although the wind was quite gentle that day we have since had plenty of opportunities to feel the wind on our skin and in our hair as it flicked it in all directions this week. We also heard it's effect as the trees swayed in the breeze and spun the leaves into a whirling, swirling frenzy.
We have now started another job role to our daily routine. A new person will be chosen each day to fill in the calendar and weather chart. We learnt a 'days of the week' song (to the tune of the Adams Family) and have to join in clicking our fingers within it. This is VERY hard and will need a lot of practise - for now most will be clicking their tongue instead but we have set a challenge for the children to learn to click their fingers, I wonder how long it will take them - It may take a while but we won't give up!
We also have some new Librarian roles who will be responsible for keeping our library spick and span, and will get to put their favourite books in pride of place as recommendations for the other children.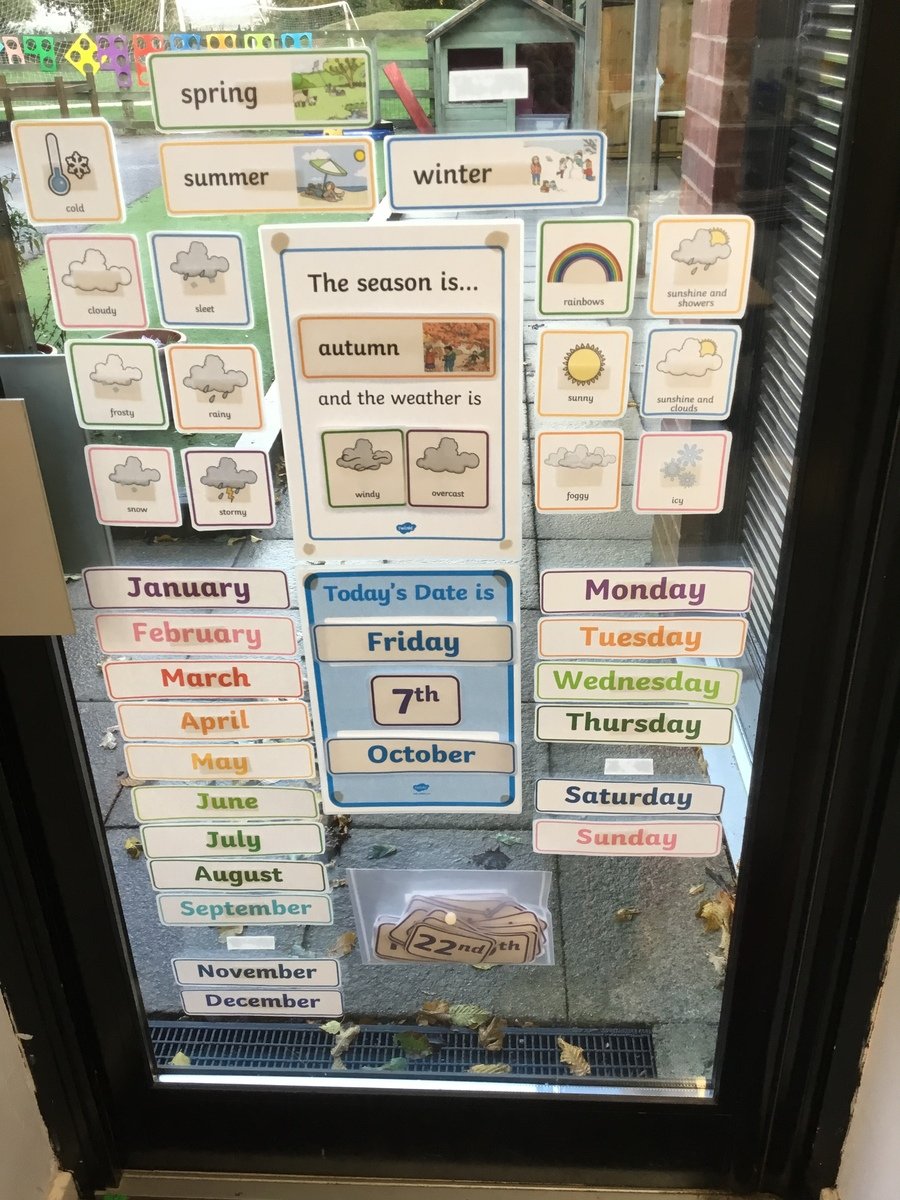 We read some lovely Autumnal books this week including a Non-Fiction book where we investigated the use and purpose of a 'contents page'.
We also read a wonderful book called 'Leaf Man' by Lois Ehlert. 'The leaf man has got to go where the wind blows' and is taken across lands far and wide, past creatures and landscapes all made from leaf patterns. We plan to make some 'leaf man' inspired pictures next week and would love to receive any collections of leaves, conkers, acorns, seeds etc that you may find out on your travels - Thank you!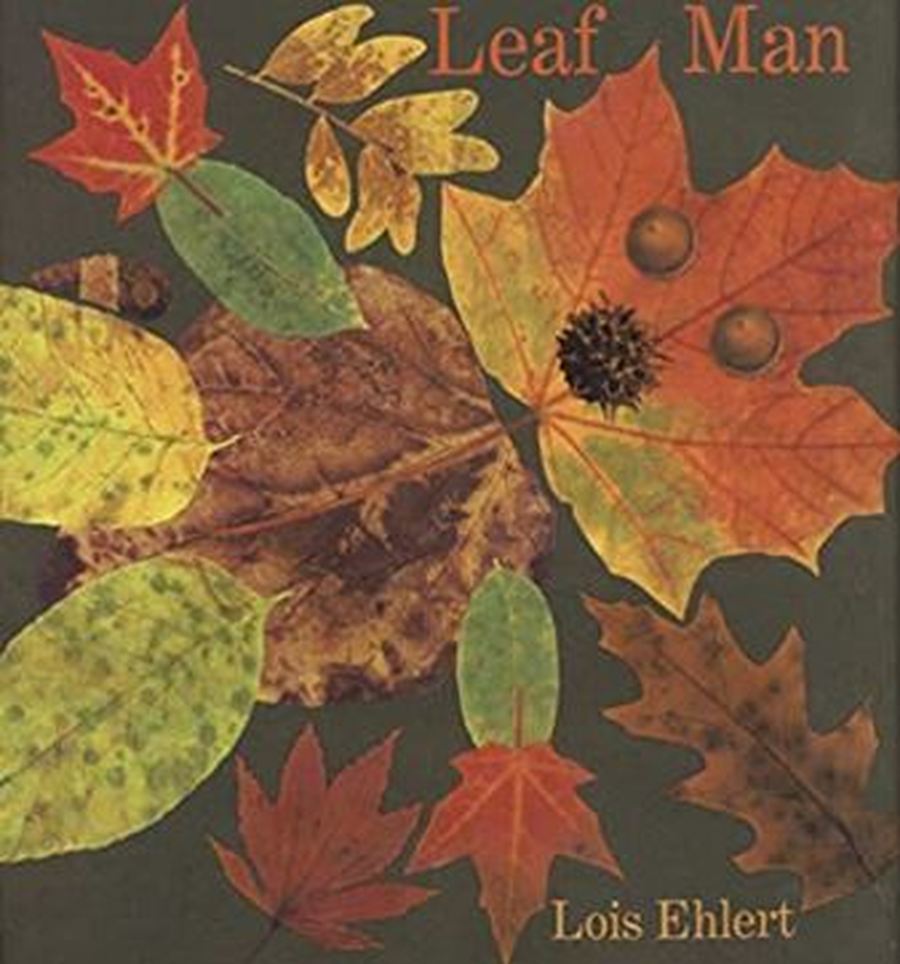 Maths
In our daily maths lessons this week, we have been looking at size, length, height and amounts and have spent time making comparisons between items as we engage in activities around the environment. We used mathematical language to explain our understanding of objects that were big or little, large or small and we measured ourselves against one another to ascertain who is the tallest and shortest person in class and who was taller than/shorter than each other. We estimated which would be the longest/shortest piece of ribbon and then checked whether we were correct and then used the measuring equipment to find the longest and shortest items we could find. We discovered how to ensure the measurements were accurate by using the same starting point for each piece. We also compared amounts, first by sight and then by counting to see who had the most/ fewest and to see who had more and fewer items than each other. Lots of children were unfamiliar with the terms, 'few/ fewer/fewest' and we talked about how it was another way of saying less/less than/least. We will be using all of this mathematical vocabulary within our day to day conversations and experiences from now on, so I'm sure it will become very familiar to them soon.
Here is a link to one of the games we have been playing on the smart board this week, it practises some of the comparisons we have been making.
Phonics and Literacy
Within our phonics and literacy learning this week, we have been playing a variety of games that help us tune into sounds, rhythms and rhymes. We met with 'Monty' the elephant who is a little shy and can only speak in a robotic voice. He has been helping us practise oral blending as he explained all about himself and described some of the things he liked to do. We have also been playing 'I spy' alliteration games that help us tune into the sounds we hear at the beginning of words and helped us to sort out the tiny objects to match the sound we heard to the written letter. (The I spy game is a great one to play at home or on the way to school if you have a few moments spare, as it gets the children used segmenting the sounds they hear in words in readiness for writing.) We have been practising mark-making, drawing patterns and name writing within a range of practical activities, for example, when saving our drawing and paintings, when waiting for a turn on the smartboard and this week to save the models we have made. The children now know to cut out a handprint, cross it to represent 'do not touch' and then to write their name so we know who the model belongs to. This will progress over the coming months as the children develop their phonic knowledge to write words, captions and then sentences by the end of the year.
Please check out bookbags for the new 'Homework' folders with name card and patterns for the children to practise with at home. Please return these every Wednesday. For all of those children who were poorly this week, we will send them them home next week once we have explained the contents with them.
Pair of Pants News
Woohoo - they have made it! Some very well-deserved pant rewards were issued and the children have now reached their target of ten pairs of underpants. We took some time to discuss ideas for a treat and voted on the chosen items. Unfortunately, with there were a few children away so we needed to wait for their 'postal' votes (well e-mail really!) to come in. We are pleased to announce they are all in now and the most popular choice was...
Yes...it's ice-cream that has been chosen this time!
Please don't feel too disappointed if your choice was not voted on this time. There are already another 3 pairs of pants on the washing line so it won't be long before there is another choice to be made!
Am off to the shops to buy the ice-cream and we will be tasting it later on this week when everyone is back in class. Get well soon to all of you that are still poorly!
A few more photos of our week, much of which included sweeping and composting the multitude of leaves that appear in our garden every day. Luckily it's all very good gross motor practise!
See you Monday!
This week's Fun!
This week we have been continuing to consolidate those important 'To be Brill' rules and trying our best to be kind to each other. We have seen so many examples of children demonstrating their super manners, listening carefully at carpet times and using their words to solve problems - keep up the good work Year R, you are superstars!
You hopefully will have seen your child come home with a variety of stickers emblazoned on their jumpers. Our aim is to catch the children 'in the moment' when they are making good choices and reward them with a sticker. We are explicit in naming the action we have seen for example, 'well done, you used such lovely manners' or 'thank you, you waited patiently to speak'. This positive re-enforcement of desired behaviours will often prompt others to follow suit and generally makes our classroom a happy place to be.
Pair of Pants Reward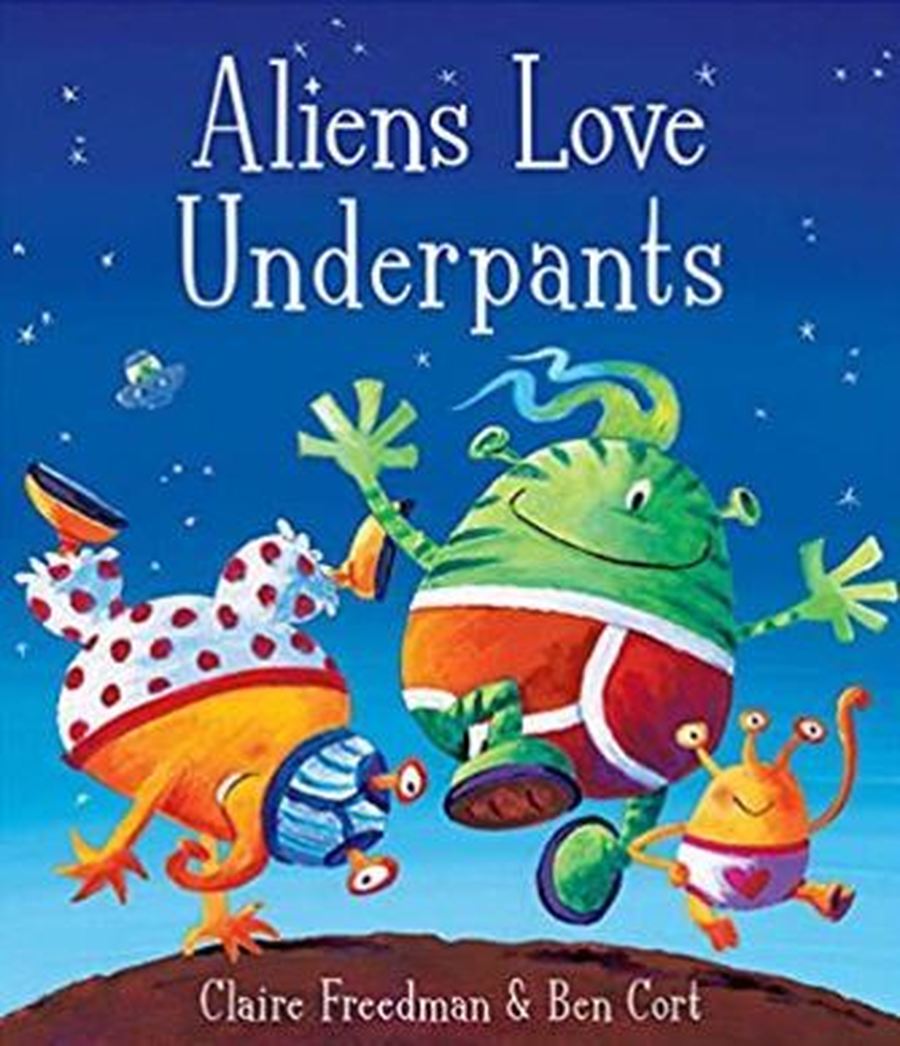 Along with individual rewards, we have introduced a whole class reward system based upon the book 'Aliens love Underpants'. When the whole class work together as a team, they earn a pair of pants. When they get to 10 pairs of pants, they have reached their goal and have earned a class treat. The class will then discuss their ideas and vote for the one they like the best. The most popular idea will win and a date will be set for this to take place - democracy in action! How soon this will be, will be dependent on how imaginative your children are with their ideas...and it has to be free or inexpensive too!
The children have been pulling together really well this week and have made it up to 7 pairs of pants so far - amazing! Mrs Harding was particularly impressed with how quietly we walked back from the the hall after PE and came down to thank us. She was taking an important phone call at the time and was thankful for how we showed such respect, it was a proud teacher moment and definitely worthy of a pair pair of pants.
I don't think it will be long before they get to 10!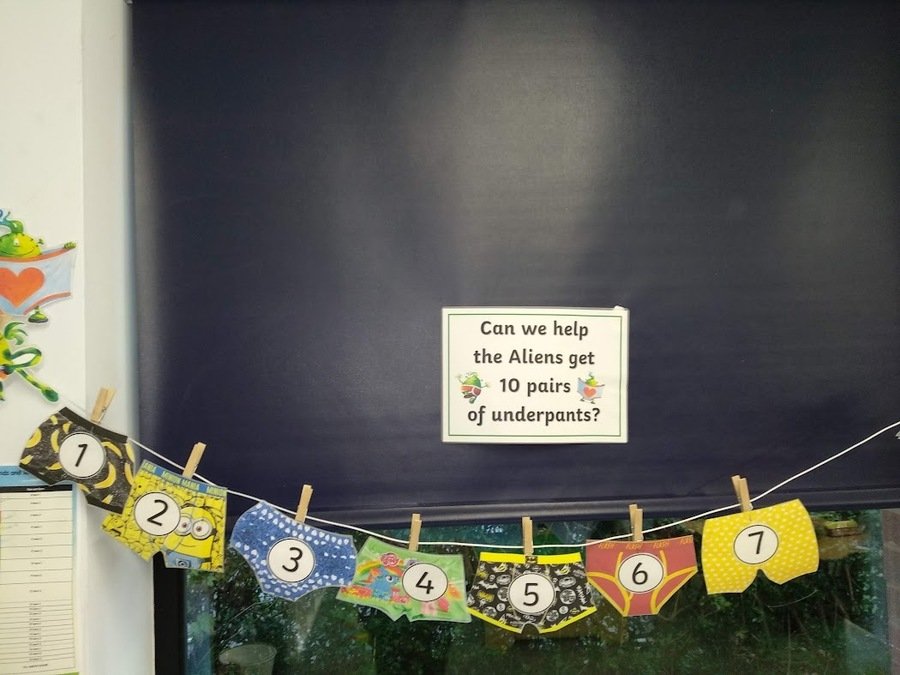 In this process, not only have we been practising important life skills but also learning practical ways to engage in maths and to realise its importance. We have learning to recognise numbers and think about their shapes; whether they have curved or straight lines; whether the numbers have one or two digits; tracking the order in which they go and have been findings ways in which to calculate how many more we need to earn a class treat. We have also been looking at the number track to see different representations of numbers and discovering ways to help ourselves if unsure about what number comes next - who would have thought there was so much to learn within such a simple reward!
On the flip side of this...
We have been discussing how it makes us feel when others are not following our rules and talked about what might happen when this occurs.
We know that we have a lot to learn and 'in the moment' sometimes forget what we are supposed to do, we all make mistakes after all. But, when we choose not to listen to reminders, or deliberately do something to hurt someone, there needs to be a consequence for our actions. When this happens, we issue an 'EEK' card which involves giving the children '5 minutes' away from the situation so they can calm down and think about their actions. We will then discuss how they can make amends and what they could do next time instead.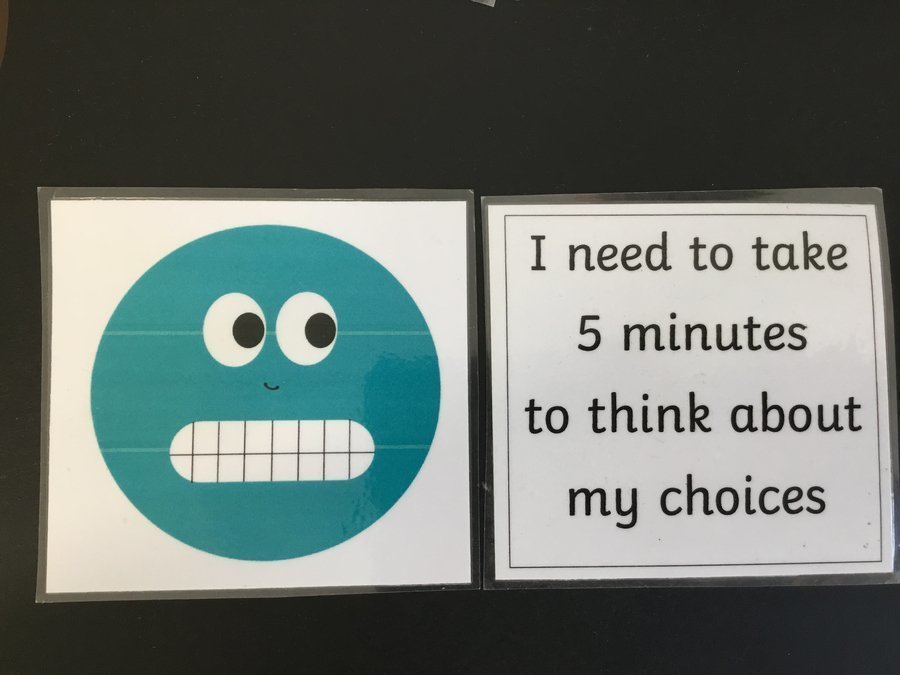 Please don't worry too much if this happens to your child, it is part and parcel of the learning process and hopefully won't be a regular occurrence. We aim to work closely with you to resolve patterns of undesired behaviours in school, likewise, we are happy to help if you need any help at home.
Dough Disco
We have introduced a new 'Dough Disco' session into our weekly timetable this week. The 'Dough Disco is a fine motor exercise routine that involves manipulating playdough to music. The simple routines help to stretch and strengthen the hand muscles and helps the children as they begin to control small tools and pencils for writing. We then add music for an element of fun!
Through regular practise the brain learns to control the fingers a lot quicker.
So far we have learnt to squeeze it, ball it and smack it, as well as making a disco dancefloor for our fingers along with various food items favourites including a sausage, pizza and doughnuts! Next week we will be putting these moves to music.
Coughs and Colds
There have been rather a lot of colds spreading through the class so we have been re-enforcing those important hygiene rules.
Cough into your elbow.
Catch it - blow your nose on a tissue.
Bin it - tissues go straight in the bin.
Kill it - now wash or gel your hands.
We would really welcome donations of tissues as we are getting through our supplies at quite a rate. If possible, we would prefer a box, rather than individual packs, as this provides us with quick and easy access - thank you!
As part of our 'This is me' topic, the children used paints to make 'self-portraits'. They looked at their 'reflections' in the mirror, looking closely at their features before representing them on paper. We read a book called 'All are welcome' that looked at a group of children who are welcomed into their new class at school. It celebrates cultural diversity and belonging. We used our portraits as a talking point to discuss our differences and celebrate our individuality. We then took some time to think about what we are good at and will be developing this further next week when we think about our future learning and what we would like to achieve in school. It is a lovely way for the children to celebrate their own particular talents and to focus on specific tasks and areas of learning they are interested in. We have the children's portraits on display in class and will be adding to this once their thoughts have been gathered.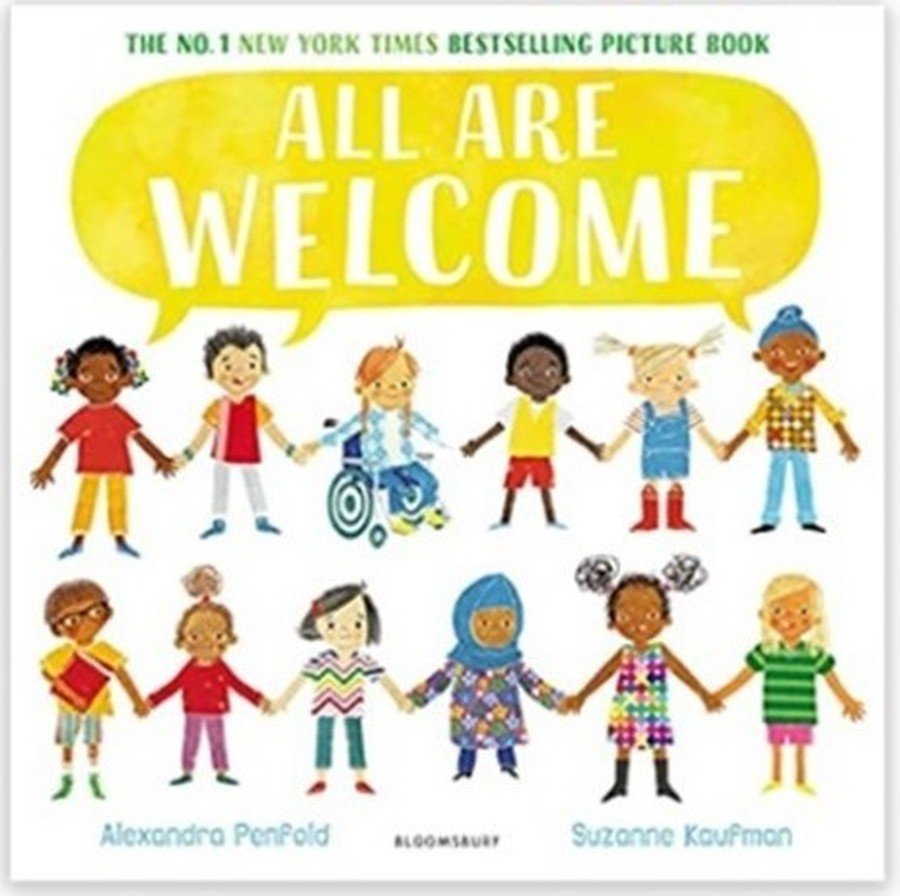 French
In MFL this week we have been learning a welcome song to help us explain how we are feeling.
Bonjour les amis comment ca va!
We have a few more photos for you to look at. We designed some pants to hang on our washing line and hoped the aliens wouldn't come and pinch them! We read the book 'Elmer on stilts' by David McKee and took the opportunity to try out our gross motor balancing skills on the stilts in the garden - it was lots of fun! We have also been trying out lots of fine motor activities that help exercise our hand muscles including puzzles, pictures with the tap tap boards and painting with the cotton buds.
and finally...
Wedding news
Some of the children may have mentioned a new name - Mrs Stevens. No we do not have a new member of staff but... our very own Mrs Hull sneaked off to Scotland and got married last weekend! We wish the happy couple, Mr & Mrs Stevens, our hearty congratulations and a long and happy life together!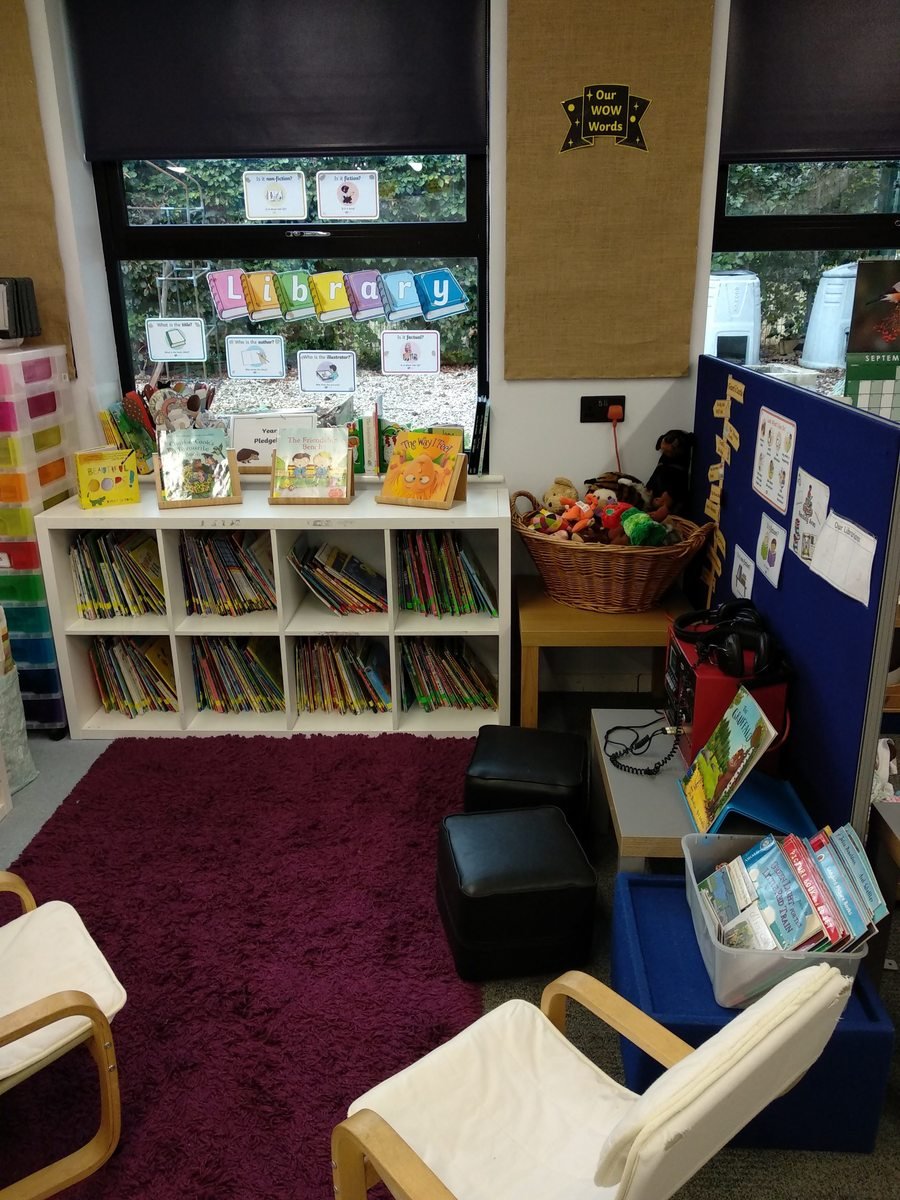 The children have been been showing some fabulous concentration skills during our regular story times. They have been learning how the library is laid out and looking more closely at what type of books there are to choose from. They discovered that our yellow sticker books are 'Fiction' books - stories that are from someone's imagination and that our green stickered 'Non-fiction' books are factual books that provide us with information. Alongside this, we have red stickered 'Maths' books that help us practise our numbers, shapes and patterns. The children have also been learning how the 'Blurb' on the back cover explains what the book is about and the words 'Author and Illustrator' explain who wrote the book and drew the pictures. We even discovered, how some people are able to do both of these jobs - amazing! We wondered if any of the children would one day like to become authors and illustrators and concluded that anyone could do it if they really wanted to and put in enough practise and effort!!
Hopefully the children enjoyed their first library book. Our book change day is Monday, so please return the library book and yellow reading reading log on this day. Please feel free to write in any comments the children have on their books. When choosing new books, we are happy to look out for favourite authors, illustrators or genres that spark an interest.
Thank you so much for all the amazing 'All about Me' books you have created. We have loved sharing their photos and have been thrilled listening to the children as they elaborate on the text and keenly share their special family memories with us.
It was lovely to see everyone at our phonics information evening on Wednesday. For those of you who could not make it, please check out your child's bookbag where you will find some information about our Bug Club phonics teaching and reading scheme. There are also some top tips to help encourage and inspire our young readers into lifelong reading as well as some information to explain the new vocabulary the children will be learning over the coming weeks and months.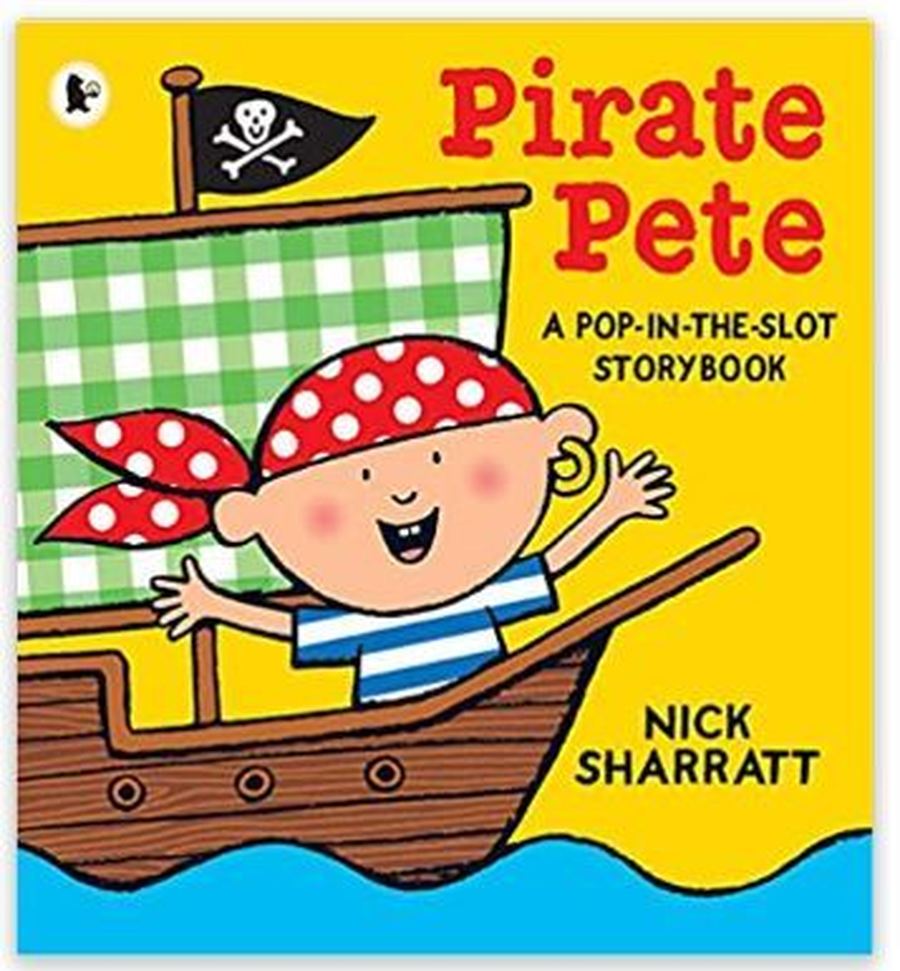 There was much excitement to be had in class this week - we think there may have been a pirate in our class!! In typical EYFS fashion, when one of the children found 'treasure' (some tiny coins) in our button collection, we began to wonder where it could possibly have come from. After much discussion it was decided that a 'pirate', probably Pirate Pete from our much loved (and re-read) book by Nick Sharratt, must have broken in during the night. There were many extra clues, sea shells, palm tree, dolphin buttons too that enthused their imagination and much fun (and learning opportunities) were to be had whilst investigating. Imagine our surprise when, the next day, we found a collection of shells and gem stones, and a pirate map had also been left. What a busy day we had making our own maps and imagining where the next adventure might take us.
PE
On Wednesday we took part in our first PE session. There was much to remember about the new routine of the morning, as well as some very important life skills as the children began to independently practise those important dressing and undressing routines. Fastening and unfastening buttons, managing clothes that were inside out and back to front were all challenges to overcome and some of the girls found their tights a little tricky too but we won't be beaten. It did take quite a while... but as the weeks pass I am sure we will get better (and faster) at this process, please feel free to practise these special skills at home too.
In the hall we learnt that PE actually means physical exercise and how we need to move and exercise our bodies to keep ourselves healthy. We needed to remember our important school rules too, as 'be ready, be respectful and be safe' applies everywhere in school - we practised these throughout the lesson. We learnt to listen carefully to instructions and discovered how to find a good space and move safely around the hall. We moved around the hall in different ways and played a listening game called Traffic lights and started to look at what happened to our bodies as we exercised. We put our hands on our 'windmills' to feel our heart beating faster after running around and imagined the sails zooming around faster just like our heart beat.
Jeans for Genes Day
Thank you for all your donning your denim and for generously donating to our charity fund-raising day. We took the opportunity to find out more about 'genes'. We used the computer and the internet to discover they are a special part of your body and are found inside you. They are passed down from your Mummy and Daddy and determine what characteristics you are born with, for example, what hair colour you have and whether it's straight or curly; whether you are tall or short, what colour eyes or skin you have; whether you need glasses or even whether you have hairy toes or not!
We watched a clip about a little boy who lives in Bicester who was born with faulty gene. He has a genetic disorder that means he will not grow up in the same way as us. We discovered he has great difficulty doing many of the things we find easy. There are many people in the world with faulty genes who struggle in different ways too, so we gave some thought to how lucky we all are.
Here is the film if you wish to take a look.
It was sad to hear how some children in Tom's school were mean to him. We thought back to the books we read earlier in the week and made a promise to always try our best to be kind.
A few more photos of our learning week...
We have had another Birthday celebration this week too.
Thank you so much for the cake treats inspired by our 'Life on the Veg' home work task - who would have ever realised that courgette cake could taste so good?
Yum Yum!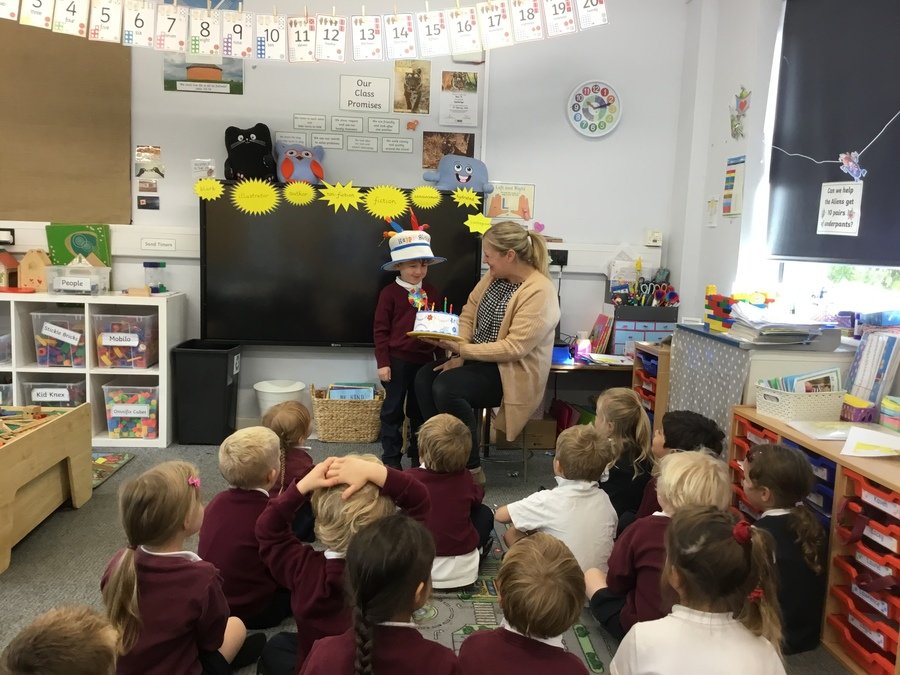 Next week we will be carrying out the Reception Baseline assessments.
Further information is available in the documents on the right hand side of this page.
Don't forget the school photographer is in on Friday!
This week in year R
This week we have continued to think about ways in which we can show we are ready, respectful and safe in school.
We continue to practise our listening skills and have been so respectful as we remember to put up our thumbs rather than shouting out our responses.
We thought about how we move around the school and have been showing we are ready, respectful and safely walking through the school so as not to disturb anyone.
We also thought about ways in which we could take turns when playing with toys and games. We have been using the sand timers to wait patiently for a turn and writing down our names on the clipboard so we know who is next. We know it can be disappointing to not always be chosen at carpet times too, so we have been using lolly-stick names and practising saying to ourselves "oh well, never mind, maybe next time."
We have been talking about lots of ways in which we can keep ourselves safe especially when moving around school such as always walking inside, picking up toys so we do not trip over them and looking out for cars and traffic when crossing the road on the way to school and in our car park.
But keeping ourselves safe involves so much more than this whether it be eating healthily or drinking plenty of water to keep ourselves 'hydrated' - one of our new wow words.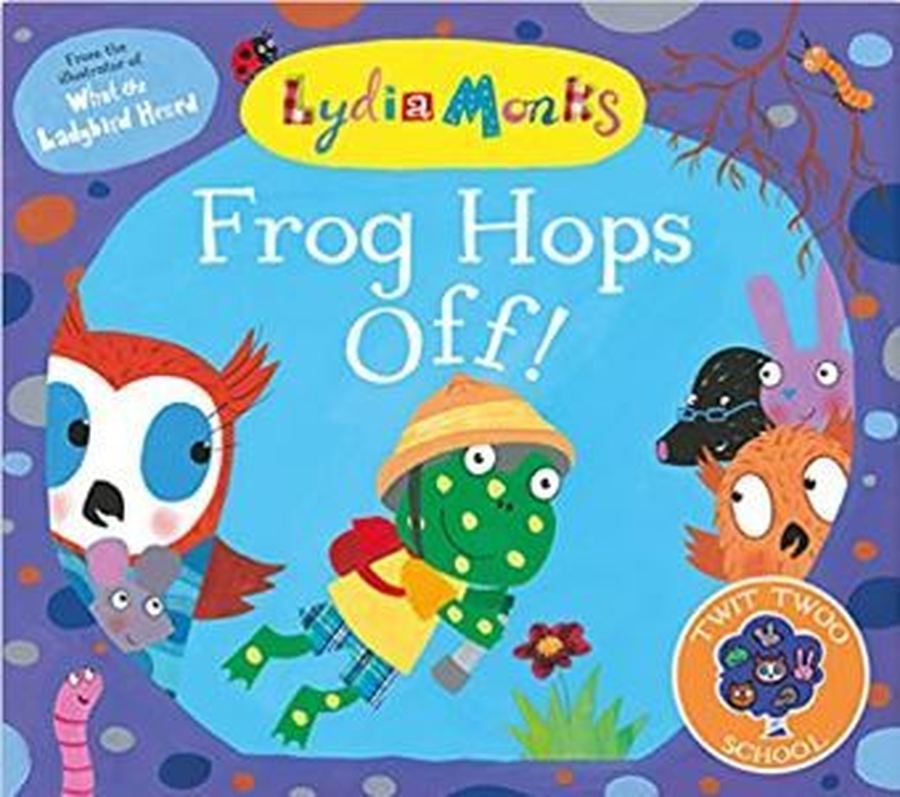 We read a lovely book called 'Frog Hops off' which reminded the children not to wander off on their own in case they get lost and listened to the story of 'Pantasaurus and the power of pants' a book published by the NSPCC which helps children understand that their body belongs to them, and how to say No and tell an adult if anything makes them feel upset or worried.
Here is a link to the website and story for you to take a look.
https://www.nspcc.org.uk/keeping-children-safe/support-for-parents/pants-underwear-rule/
We have also introduced our new job rota and the children have been taking it in turns to help with tasks around the classroom. We are keen to instil a sense of responsibility and pride in our environment and so far the children have risen to the challenge. They have been avidly checking the rota to see if their name is listed and, when chosen, have been very conscientious when carrying out their duties. We have a special list to ensure everyone has a turn at each job, it must be fair after all! Jobs include counting out the cupcakes, handing out fruit (and listening for lovely manners), fetching and emptying the compost bin, updating the visual timetable and much much more...
We have a few favourite jobs already emerging but all of them have been enthusiastically carried out - who would have thought putting pens lids back on could be so exciting!!
In readiness for our first lunchtime play with the whole school (and of course our special buddies) we explored the climbing walls, field, mound, nature garden, playground and adventure play. The buddies have been doing a fantastic job of supporting the children so far. They are now eating together in the lunch hall before supporting the transition to outdoor play - thank you buddies!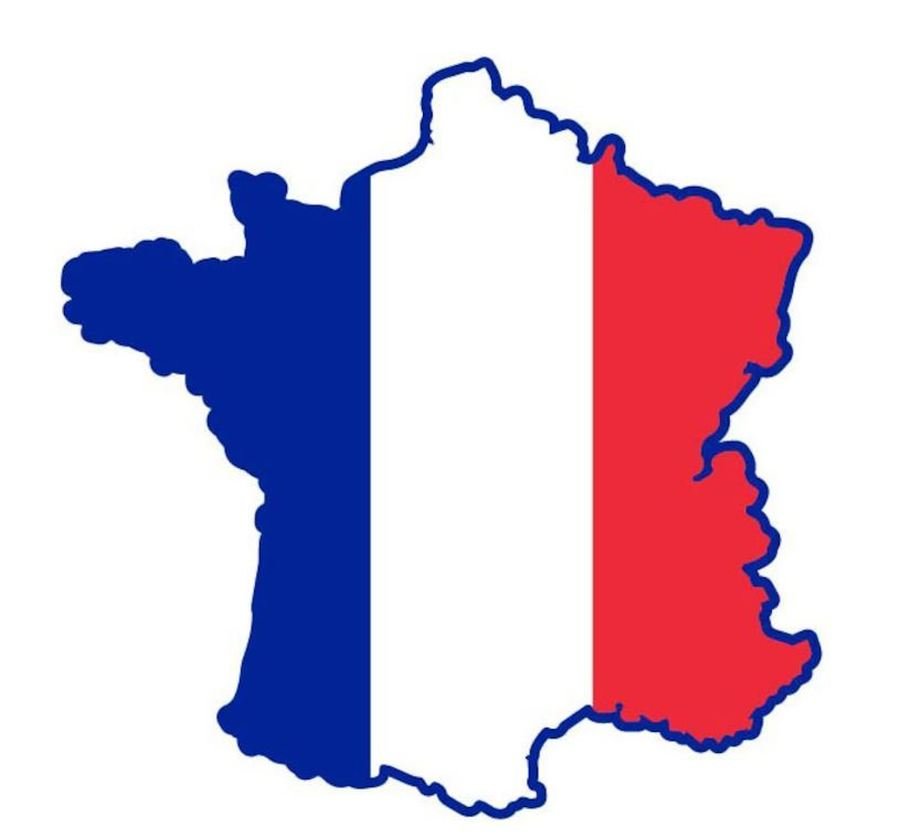 Each week Madame Tate and her special helper 'Saucisson' will be coming into class to teach us how to speak and understand French. This term the children will be learning some greetings and to explain how they are feeling. They will also be learning how to say their name, and recite numbers from 1 to 12 and back.
I wonder if they can remember any of the phrases they have learnt so far?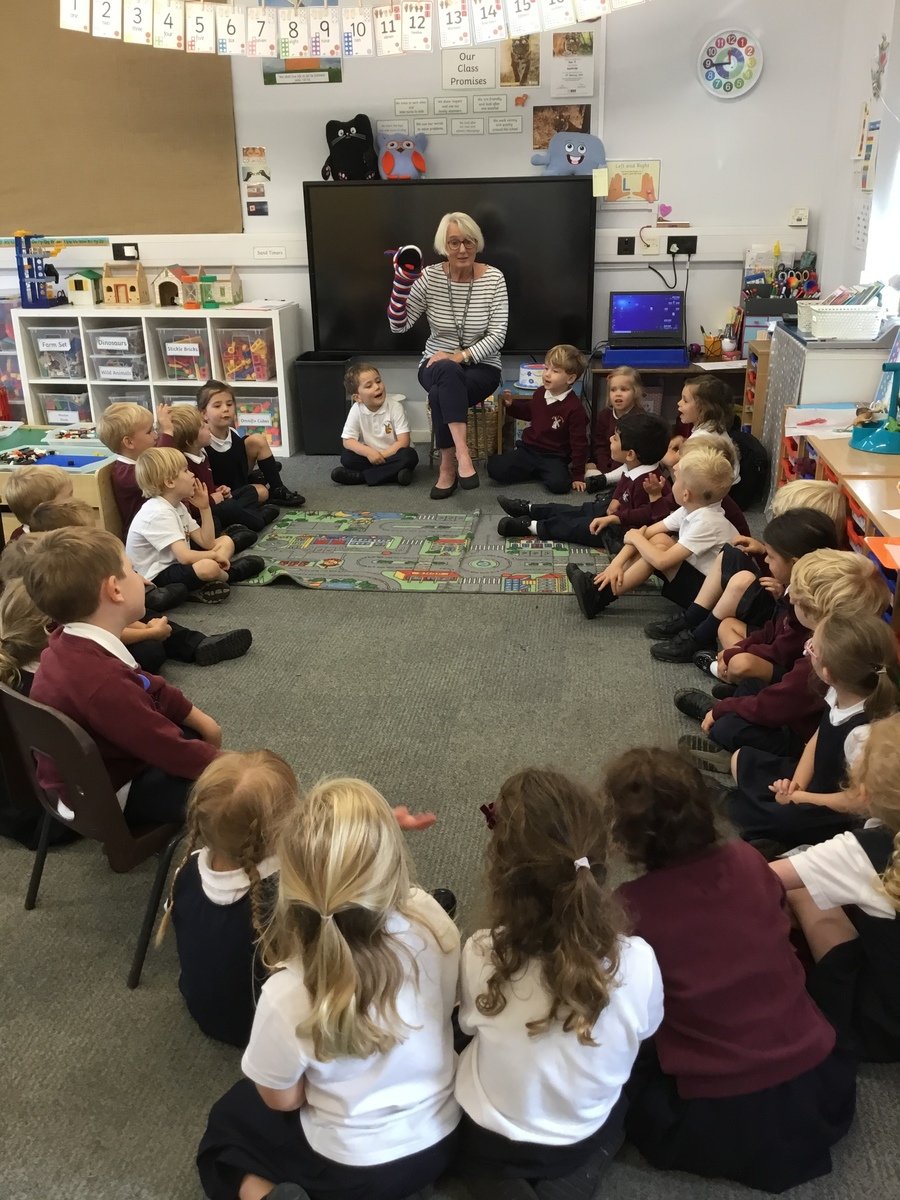 We love to celebrate special days in the calendar and the children's birthdays are among these celebrations. We had our first birthday celebration in Year R this week. Everyone wished the birthday girl a 'Happy 5th Birthday' and joined in to sing the birthday song. We heard all about the special treats, gifts and cards - what a lucky girl. It sounds as if you had a fabulous day!
Here we have a few more photos of our week...
Wow - there has been so much to take in...no wonder we were tired again on Friday!
Next week we will be starting our first PE lesson - so please make sure all PE kits are in school. The children will also be choosing a library book to take home.
We hope you have a lovely long weekend - Bye for now!
First Week Fun!
Well what an exciting first week we have had - busy busy busy are the first words that pop into my head!
The children have been exploring their new environment and becoming familiar with our daily routines and classroom rules that help us to make the space a lovely place to be.
We have been looking at our very special rules that underpin all that we do here at Brill...
Be ready
Be respectful
Be safe
...and have been discovering lots of ways in which we demonstrate these as we play and learn.
The children have been finding out what it takes to be a good listener and practising these skills as they come to carpet upon hearing the shaker. They are remembering to have empty hands, cross their legs, hands in their laps, eyes to the front and are showing they are ready to listen by being quiet - great job!
There is always much to talk about and news to share, along with some delightful songs that some of the children were keen (and brave enough) to share - so lovely!
We have been learning to take turns in conversations and are trying to remember to put our thumbs up to our chest and wait patiently to speak rather than shouting out - this way we make sure we can hear each other clearly and is a wonderful way of showing respect to one another.
There have been many new toys and activities to play with and to ensure our classroom doesn't get too messy, we have been trying to remember to put one box of toys away before we get out another, like all of our new learning, this will take some practise but is a way to show respect for our belongings as well as making sure the area is safe to move around in.
Here are a few photos of the first few days - some of you will have heard lots of news already but I'm aware that many children are not so forthcoming about what they have been doing!
Buddy News
Whilst the Year R children are settling in, they have been playing in our own garden space at lunchtimes, but have been joined by the Year 5 children who are to become their buddies.
The buddy system is designed to help children as they transition into big school and provide them with a special friend, a friendly face with whom they can turn to when faced with a sea of new faces around their new and unfamiliar surroundings. The buddies join together daily on the playground at lunchtimes, playing games and activities and are together in class for regular literacy sessions and play dates throughout the year - they really get to build a special bond with one another. The older children greatly benefit from this too and take great pride in these leadership roles as they learn responsibility and compassion, and the joy of caring for others as they unite with the younger ones. These relationships really bring the children, school and the community together. You will probably hear the children talk about their new 'buddy' or chat to the older children as you are out and about in the village - it is so lovely to see.
On Friday the children got to pair up and choose their special Buddy. They shared their 'All about me' books, read stories together and played games.
From next week on, our buddies will share meals with us in the lunch hall before supporting the children on the main playground during lunchtime play.
Hopefully the children will remember the name of their Buddy, please ask one of the team if they need a reminder.
Now let's meet them all!
It's lovely to see the children remembering the morning routines. We aim, with your help, to support their developing independence with discreet reminders to put their coats, water bottle and lunch bags into the correct cloakroom space and then bring book bags into their named drawer in the classroom.
A daily fruit snack is always available for the children, but if anyone is bringing an additional snack from home, please pop this into the cloakroom snack box. The boxes are often a little too bulky for the drawers and it helps us quickly identify who has additional food - thank you!
Please direct your child to the self-registration cupcakes too and help them find their name and move it onto the register tens frames. We will be using these as a purposeful counting opportunity to find out how many children are here or away each day.
Wow, what a lot of things to remember - I think everyone was very tired by Friday, we certainly had a quite a few yawns on the carpet!
We hope you all have a lovely rest at the weekend in readiness for our next busy week!
It would be great to have 'All about me' books and any outstanding 'collection rota' sheets in by the end of the week please. Come and see a member of the team if you need a new one.
Happy weekend - see you Monday!
Welcome to your new classroom
We are looking forward to meeting you all again.
Come and take a look...
Exciting news and more...
This week we have welcomed some new life to our classroom and so far, two of the chrysalis have opened and we have two beautiful butterflies in the net. (News update - they have now all emerged!) We have been watching them carefully and allowed them time to open up their wings properly. When they first emerge the wings are soft and need time to stretch out and dry. We spotted a red liquid on the tissue and were worried it was blood but have no fear, the red liquid is know as 'meconium' and is nothing to worry about. We will have to let the butterflies go next week, but for now have been admiring this wonder of nature.
We also have some amazing photos of a chrysalis under the microscope. The empty cocoon looked quite plain to the naked eye but was stunning under the lens.
We made some fabulously bright and beautifully symmetrical butterflies this week too and put up our special display to make our new arrivals feel welcome.
Life in the incubator
We have had six hen's eggs in the incubator for a few days now and have just started to investigate what the incubator is doing and what might be going on inside the eggs. We talked about how the eggs had to be fertilised eggs to grow into a chick and needed to be kept warm and turned regularly to survive, so we need not worry about the eggs from the supermarket hatching in our kitchens.
We read a non-fiction life-cycle book and started to countdown the days until the egg-spected arrival. We are updating the calendar daily and now have just six days to go. We are eggs-tremely egg-cited!
We have begun to make some non-fiction books of our own. So far the children have chosen a title and drawn their front covers, next week we will be searching for chick facts and writing some fact files to go inside them. We have been very impressed with their work.
Science egg-speriment!
We also became scientists again, this time looking at the shell of the egg which is made of a material very similar to the enamel on our teeth. Many of the children are beginning to lose their baby teeth so it seems a perfect time to think about looking after the new ones that are coming through.
We placed eggs into different liquids to mimic the effect the liquids might have on our teeth.
We used vinegar, milk, orange juice, cola and coffee (that one was for the adults).
We made some predictions first about what might happen and left them for three days to see the results.
This is what we discovered...
The milk seemed to have no effect although the milk had curdled.
The orange juice had pitted the shell and had given it an orange tinge.
The cola and coffee had both badly stained the egg.
We had a go at brushing the egg with a toothbrush and discovered it did remove some of the stains, so resolved to properly brush our teeth twice a day to ensure we don't end up with stained and damaged teeth.
The vinegar was the really interesting one, it completely dissolved the egg shell and turned it into a bouncy ball - for a while anyway.
The children were convinced I had replaced it with a fake egg until eventually, with one bounce too many, it popped like a balloon and spilt all over the table!
It was great fun!
We had a fabulous time celebrating 'Rock star' day, The costumes were fantastic and the children managed to keep in character for most of the day - although there were a few hair and make-up malfunctions throughout!
Of course we had to erect the stage, a team effort, and put them through their paces - the warm up was quite a spectacle - we loved it. We really couldn't recognise some of the children but counted 25 so knew they were all here somewhere!
Thank you for your generous donations to the PTA.
And finally we got to fly our re-cycled plastic bag kites.
We knew if we were patient enough the wind would blow...
Butterfly Wonder
Over the last couple of weeks we have welcomed some new life to our class - some caterpillars! We have been closely watching them grow and at quite a rate! This week we came in one morning to see each one had turned into a chrysalis.
Hopefully in the next few days we will see the next change and the new butterflies will emerge. We learnt the word to describe this change was 'metamorphosis'.
We have been looking carefully at butterfly wings too, we noticed the wings on the Painted Lady butterfly in the picture were the same on both sides and leant another new word 'symmetrical'.
We looked at the butterfly lifecycle too and created some lifecycle art with different types of pasta.
We made some beautiful patterns with the gemstones and then had a go at trying to make some with a symmetrical pattern. We used mirrors to check whether they were exactly the same on both sides. In forest school too, the children used natural materials to make some beautiful butterflies.
Similarly, in maths we looked at doubling and learnt that a double was twice (2 lots of) the original number. We began finding doubles all around the environment - even during our phonics lessons where we found some some double letters!
Here are some more forest school photos from last week and more outdoor fun!
And finally...our '10 pair of pants' reward, the Teddy Bear's picnic - a jolly time was had by all!
Welcome Back
Welcome back to our last term together in Year R!
This week we have been continuing to think about the environment and have been making good use of those left over plastic bottles and bags you kindly donated.
We had already trimmed down the plastic bottles, added a funny face, some soil and sprinkled on some grass seeds before the half term. A quick water and a little sunshine was all that was needed and, as if by magic, we came back after the holidays to find some fabulous grass heads. The seeds sprouted so quickly and are already in need of a bit of a trim!
We also began to make some kites using the plastic carrier bags. We had some breezy weather that proved very handy for testing out the designs. We experienced a few hiccups with some of them flexing too much as they were being flown. We had to re-think how they were put together and tried out some different methods to find out what worked best. We learnt that we shouldn't give up when things don't work out and to keep on trying. Because of this we managed to make our kites fly even better - great job guys!
We will carry on with these next week too - I wonder whether anything else will need adapting?
Our Forest school sessions started this week and appeared to be a big hit.
Upon their return, the first group were very excited to share their experiences with the rest of the class. Group 2 will go next week and are eagerly awaiting their turn exploring the space - and the hot chocolate and biscuit that they get too, I expect!
Here are a few photos of the afternoon.
We also enjoyed our first swimming session this week too!
Luckily, the weather didn't let us down, the sun was shining and the water was warm! The children were fabulous in the water and Mrs Chettle was blown away as the children showcased our important values to 'Be Ready, Be Respectful, Be Safe.'
Well done Year R - we were very proud of your efforts and awarded them a 'pair of pants' for super team work.
We managed one quick photo of the first group in and will try to get a shot of the second group next week but, as you can imagine, we were rather busy making sure everyone was safe!
Jubilee Celebrations
Well, what a fabulous Jubilee week we have had!
Here are a few snaps from our celebrations, including a look at our Year R flag, dress up day, oak tree planting and a very special lunch celebration in the hall.
Wishing you all a fantastic Jubilee week.
Congratulations Queen Elizabeth!
Prayer Space
This week we were lucky enough to visit the church for our turn at Prayer space.
During our visit, the children were given time to think about what God meant to them and to reflect about things that made themselves special, as well as ways to be peaceful and to show love and peace to others. We learnt the importance of forgiveness and thought of people across world wherever they may be.
The children behaved impeccably and were keen to discuss their favourite parts back in the classroom.
We are very grateful to Reverend Gemma and Jenny, along with Martha for giving their time so generously.
Elsewhere we have been making the most of the beautiful weather, spending much of our time in our outdoor area. We have been tidying and weeding the garden, planting out tomatoes and sowing some seeds. We even managed to use the slabs as a 'tens frame' as we estimated how many fir cones were in the pots and then checked by counting.
Our time at prayer space made us realise how lucky we are to live in such a beautiful and safe part of the world and helped us to appreciate what we have right on our very own doorstep!
This week in Year R...
Another busy week for us here in Year.
Last week we paired up with the children in Year 5 and now have buddies!
The buddy system is designed to help children as they transition into big school and provide them with a special friend, a friendly face with whom they can turn to when faced with a sea of new faces around their new and unfamiliar surroundings. The buddies join together daily on the playground at lunchtimes, playing games and activities and are together in class for regular literacy sessions and play dates throughout the year - they really get to build a special bond with one another. The older children greatly benefit from this too and take great pride in these leadership roles as they learn responsibility and compassion, and the joy of caring for others as they unite with the younger ones. These relationships really bring the children, school and the community together. You will probably hear the children talk about their new 'buddy' or chat to the older children as you are out and about in the village - it is so lovely to see.
Thankfully, now that all year groups are fully integrating we have been able to meet together and start to nurture these valued relationships.
Our buddies have already joined us for a shared reading session and this week have helped us learn our new Values song along with some actions to help us remember the words.
Hopefully the children will be familiar with their buddies name by now.
Here are some photos of our sessions so far...
The new term begins...
Welcome back to the start of the new term. The children have come back refreshed and full of excitement to share their news and holiday adventures!
We have been looking more closely at where the children have been in the world and have been writing sentences that detail their travels and plotting this on a giant map. We discovered how tiny the UK is in comparison to other countries and magnified a map of the UK to show where England, Scotland, Wales and Northern Ireland were so we could see exactly where we had visited in this country. A few children were lucky enough to travel abroad. They had some first hand experiences of an airport and are now able to share and play out these experiences in our role play airport.
Our school topic for the summer is the 'Great Outdoors' - so let's hope we get to enjoy lots of lovely sunshine this term.
Thank you to those of you who took part in the 'Ponderful' challenge - what a super effort you made, there were some really wonderful entries! Judging will take place over the weekend, we will let you know prize winners next week.
This week we have focussed our attention on wider worldly issues by joining in our Brill school 'Action for the Earth' week. We have been finding out about the planet Earth and what we need to do to look after it and ensure that life still continues for millions of years to come. We read stories and watched film clips that detail how our environment is being damaged and what we need to do to look after it. We have decided upon the actions we can take to help minimise the damage caused and over the next few weeks will be working towards these goals.
This week we have looked more closely at the items we are using and decided whether we could be more efficient by reducing, reusing or recycling them. We looked at simple changes we could make, such as turning the lights off when we leave the room; using both sides of the paper when writing; re-using items for other purposes - just as we make new toys and models out of the junk we no longer need; making sure rubbish goes in the bin and recycling it whenever possible.
We sorted our own items of rubbish into different categories, looking for recycling labels to check we were putting them into the correct bin. We sorted items into paper and card, glass, metal and plastics and of course we made sure our fruit peelings, at snack time, went into our compost bin.
On Friday, we reduced our energy consumption and joined the rest of the school by turning off the lights and spending the afternoon without using electricity. We put this time to great use, going on a litter pick to tidy up our outdoor spaces and clear away any items that might harm the wildlife that visit the grounds.
Elsewhere, in maths, we have been have been looking at numbers to twenty and beyond using a range of different counting materials such as tens frames, Numicon counters and Unifix blocks to represent these numbers. We discovered the teen, two digit numbers represented one lot of ten and however many single ones (or even two lots of ten in the case of 20).
This term in PE, we will be practising our ball skills by throwing, catching, kicking, shooting and passing balls to each other. We tried some of these skills out whilst playing a tricky word game too - it was lots of fun!
Next week we will continue with our 'Action for the Earth' challenges and hope to reduce the amount of plastic we use by printing cloth bags for us to use in class.
Year R Easter Song
Happy Easter everyone!
Spring Festivities
Over the last couple of weeks, we have busy investigating the season of Spring; finding out what changes take place in the environment, noting the changes we see in our own garden and managed some first hand weather experiences that this changeable season brought with it!
With the role play airport up and running, we have been looking at holiday destinations and thinking about countries we might like to visit from around the world. We thought about what we might expect to see when we get there and what we would need to pack in our suitcases. The children chose and cut out some clothing items and them wrote out a sentence to explain where they were going. It turns out, there are quite a few of you off on real holidays this Easter, so we are looking forward to hearing all about them when you return. The children will hopefully remember their holiday essentials, it seems you may be needing the sun cream too - you lucky things!
This week, we have been reading all about the Easter story and in preparation for the Easter church service have been learning a song and making chick, bunny and Easter egg hats to wear during our performance. We learned about some of the traditions that take place during this springtime Christian celebration and discovered that Easter eggs are given as a symbol of new life and rebirth. We also made and wrote out Easter cards to our loved ones - please look in your child's bookbag for their card.
Madame Tate shared some of the Easter traditions that children in France take part in too. Watch out for 'les cloches de Pâques' - flying bells returning from Rome that drop Easer treats for the children to collect.
On Wednesday we joined the whole school in the Easter church service. The children behaved impeccably as they listened to each year group share their stories, artwork, poems and Easter prayers. They then performed their Easter song and took great pleasure in reminding everyone to remember to 'brush their teeth' are tucking into their chocolate Easter eggs!
We finished the week with another Easter tradition - an Easter egg hunt. The children had worked really hard to earn their 10 pairs of pants and had unanimously chosen an egg hunt as their reward.
There was much fun to be had searching for the plastic eggs that had been hidden all over the garden and playing field. There were seven lucky eggs that contained a piece of 'golden pasta' that was to be exchanged for a special word clue to explain where the real eggs were hidden. After much searching, the clues were put together and spelt out the sentence " The Easter eggs are in the kitchen."
Great team work guys - we hope you enjoy the chocolate!
We would like to wish you all a very happy Easter and a wonderful Easter break!
March 18th
This week we have been thinking about updating our role play area and have been discussing options and play ideas. We brought out the picture tally charts and spent some time noting down each other's choices. We are getting so much better at managing data and numbers in this format. Have a look below at some of our ideas. Unfortunately we ran out of time this week but will be voting on Monday to decide what it will be.
I wonder what everyone will choose?
There were a few children keen to practise their singing skills too; we thought this might be better outside - a perfect excuse to set up a stage in the garden and the weather was on our side...
Wooden blocks were utilised and organised into a performance area, music chosen, speakers and microphones at the ready, ticket booth open for sales and the fun began...
I think we may be seeing a lot more of this, we certainly have some keen singers this year!
Although the weather seems to have improved this week, we were surprised that officially the Spring equinox isn't until Sunday (clocks go forward on 27th). We found some spring flowers bursting open in the sunshine and used them as an inspiration for some artwork. We looked carefully at the shapes and colours before sketching them and using watercolour paints to bring our pictures to life.
We also took a look at how to mix colours together to develop different shades. For St Patrick's day, we cut out some patterned shamrocks and painted them with differing shades of green, by adding either white or black.
We have been playing dice games with the number tracks to practise recognising patterns of dots and to help us calculate how many more we need to throw to be the first to ten. We have also been playing a 'Dotty 6' game, taking turns to see who can win three squares in row - it is great game for developing game play and working out strategies to beat your opponent.
Thank you so much for all the fabulous photos you sent in with the results of your own 'shiny penny experiments'.
The children have been excited to discuss their findings and have been comparing notes all week. There has been much talk about the differing choices of liquids. Some parents were even prepared to share their alcohol - now that's dedication for you, all in the name of science of course. We have all been wondering and speculating together as to how the results have been so different - it is wonderful to see such curiosity and enthusiasm shining through - thank you for encouraging this at home.
Year R Scientists
This week in Year R, we have been scientists!
We found that our coins were very dull and dirty looking, so decided to try and make them shiny again.
We spent the morning scrubbing the pennies in water but couldn't get them to shine. We had a think about what else might work and decided to try hand soap. We used up a whole bottle of soap and made plenty of bubbles but the coins were still dull and dirty looking. We decided the pennies couldn't possibly be dirty, or have any germs on them now, as they had been cleaned so thoroughly.
We then discovered how the pennies were actually 'tarnished' which meant that over time and their use, the surfaces had started to corrode and had turned them a dull brown colour. We wondered whether we could remove the tarnish by cleaning them with something other than soapy water and went in search of items to try.
Our Shiny Penny Experiment...
We found cola, ketchup, oil, hand gel, false teeth tablets, table spray, washing up liquid, vinegar, lemon juice and hand soap and poured them into bowls and labelled them.

We made predictions about what we thought might work best and popped our pennies into the liquids overnight to see what would happen.
This is what we discovered…
We have been discussing our results and noted that, in some of the liquids, one penny came out shinier than the others and speculated as to why this might be.
There were some fantastic theories...
Could one of the coins have been submerged for longer?
Had one coin landed on top of another and not have had as much liquid on it?
Had one of the coins been dirtier in the first place?
We talked about how scientists need to re-test to see whether they can replicate the results and have set the children a challenge to try this experiment at home.
You could try out the same liquids or choose some new ones.
There have been a few interesting suggestions; chocolate spread, jam, brown sauce, juice, yoghurt or milk.
I wonder what will happen? Will any of them have an effect? Will you have similar results to us in school?
Please email in your results, we would love to share them with the class.
Happy experimenting!
Wow - what an amazing effort everyone made with their costumes - thank you!
We joined KS1 for a special assembly to show off each other's fabulous costumes.
It was fun trying to guess who was who!
We had a wonderful day reading our books and sharing stories - well done everyone!
International week celebrations
We finally got to celebrate our International day visits around the world.
It was fascinating to find out a little more about Bali (Indonesia), Japan, Italy, Greece and Poland.
Here are a few highlights of our very own Chinese New Year celebrations.
We made red lanterns and some rattle drums to scare away Nian, the monster from the ancient story about how the Chinese New Year celebrations and traditions first came to be.
We found out it is customary to give gifts of money to children in special red envelopes. Circles and the number 8 are also thought to be lucky and bring good luck, so we put eight coins in our red envelopes and decorated them with Chinese letters and numbers.
We made dragon and Lion masks too.
Lochlan showed us his incredible Lion costume that came from the Chinese New Year procession he watched in London's China Town - it was very cool!
Thank you to those of you who sent in photos of your very own Chinese New Year celebrations and activities - we loved sharing the photos!
We read the story of the Great Race and discovered how twelve animals took part in a race to decide which animal would lead the new year celebrations. The Jade Emperor named the first year after the rat who came first in the race (he cheated by hopping on the Ox's back). The Emperor decided that it would be fairer to name every new year after one of the animals and did so in the order that the animals finished the race.
We played our own 'great race' game, we had lots of different winners and the 'rat' was not allowed to cheat!
(Unfortunately our class ipad has undergone a large update and we are locked out of it at the moment, so we only have a few photos of the completed items).
As 2022 is the Year of the Tiger, we did some research to find out a little more about them.
We discovered that Tigers are now an endangered species as poachers kill them for their skins and for folk remedies. Their habitats in the wild are also being destroyed, which means they need to travel further afield to find food and often clash with communities when they kill livestock from the local populations.
The children were rightly horrified that such beautiful creatures might soon become extinct so, instead of their '10 pairs of pants' class reward, offered to adopt a tiger instead.
This week we welcomed 'Gopal' a furry, soft toy version of our adopted tiger and will be receiving regular updates of how he is doing.
It was wonderful to see the children so passionate about supporting this worthy cause and such a lovely life lesson for them to recognise how others in the world are not as fortunate as themselves.
Next week we will be putting together a book about our celebrations and thinking about facts and favourite parts of our time looking at China and the Chinese New Year.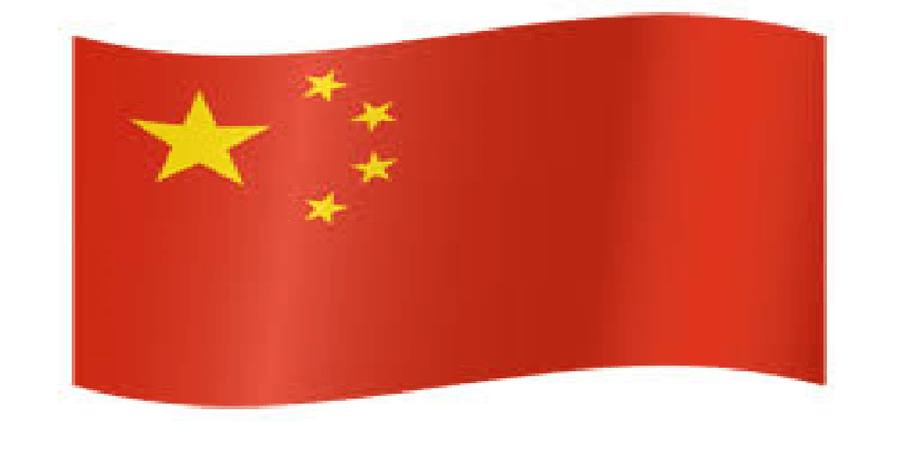 February 13th
This week we have been finding out more about the country of China ahead of next week's 'International week' celebrations.
We looked at where China was on the map and discovered it was a huge country in comparison to the UK and that it would take around 11 hours to fly there. We also found that more people live in China people than any other country in the world.
We made some Chinese flags and learnt how to say some words in Mandarin Chinese.
Hello (ni hao) and thank you (xie xie).
We also discovered that China is world famous for its food, so turned our role play area into our very own Chinese restaurant. We made some of our favourite Chinese foods out of salt dough and have been selling them in our restaurant all week. Prawn crackers, toast and some rather delicious looking spring rolls were selling very well! Business was so good, we opened up a takeaway service too and decorated boxes for the customers to take the delicious goodies home. We tried eating some noodles (pretend) with chopsticks and discovered there is quite a skill to this, as most ended up on the floor! We won't give up though - we know that we have to keep practising and persevere to get good at something.
We also looked at the hygiene ratings that are displayed at food outlets to explain how clean the restaurant and kitchen area is. Scores are out of 5, (5 is very good) look out for low scores though, after all, we don't want to pick up a tummy bug.
Sadly, the inspector has had to close our restaurant on a few occasions, but luckily we have soon managed to make it 'spick and span' again and open back up.
I have challenged the children to look out for these signs as they are out and about, please feel free to send in photos for us to see.
We found that China has a rather famous wall that is the longest in the world so, not to be outdone, we decided to make our very own 'Great wall of Brill'.
We tried a selection of building materials both inside and outdoors but soon discovered we didn't have quite have enough to compete with the 13,000 miles of wall found in China, but we had fun trying!
We then read a non-fiction book about about Chinese New Year, a special festival that is celebrated in China every year in the Spring - the start of the Lunar new year.
We have been writing greetings cards to each other and found out how flowers and the newly growing blossom from the plum tree are thought to bring luck and hope for the new year. We painted some of our own and learnt a Cantonese phrase to wish each other 'Happy New Year'.
"Gung Hei Fat Choi"
Each year is named after one of the 12 Zodiac animals, we will be finding out more about this next week. This year we will be celebrating the Year of the Tiger, but what year was it when our Year R children were born? I wonder if they can remember?
If they were born before 27th January 2017 they will be... a monkey.
If they were born on 28th January 2017 or after, they will be... a rooster.
Our festivities will continue next week, don't forget to dress up in our flag colours on Friday - we will be jetting off on a whistle stop tour of the world to see what is happening in places far and wide!
February 6th
Thank you to all of you who took part in the RSPB's Big Garden Birdwatch last weekend. The children were so excited to share their results and tallies with us and we saw some fabulous photos of the children with binoculars in hand, avidly watching for signs of birdlife - it was so lovely to see. The birdlife has continued to be of interest this week, from the window we even managed to spot a robin bathing in a bucket in our side garden. Outside the birds were a little more tricky to see, unfortunately, we do make rather a lot of noise en masse!
In PE we took to the football field and had a go at a 'daily mile' (it will be a weekly mile for Year R). We hope to see our stamina and fitness levels improve over the coming months but are already seeing some shining running stars who showed fabulous perseverance and were determined to keep going for the whole time, amazing!
What really impressed us too was the incredible team work and sportsmanship everyone showed. We are not all made for running, but the class pulled together to help one another out, stopping to help up some that had fallen or slowing to support those that were flagging behind - such kindness made us very proud and was rewarded with a very well deserved 'pair of pants' - I see another class treat coming very soon! We have been keeping our bodies supple with some relaxing Yoga too and joining in with antics of Pedro the penguin and Joybob the Polar bear.
In maths, we have been holding regular Bingo games to help with number recognition and ordering numbers. They are very popular, the excitement is palpable when we are down to the last few numbers!
We have also been looking at different tools to help us with our counting and calculations. We have used number tracks and Numicon matching numbers to objects and using them to help complete our number sentences. We have also been using some balance scales to weigh and measure items. We estimated what we thought might be the heaviest and lightest items and then used cubes as a form of measurement to see if we were right.
Jenny from the church visited Year R and talked about the value of Hope. We listened to stories that inspired us to be hopeful and discussed our own hopes and dreams for the future. There were naturally many wishes for new toys and treats but it was wonderful to hear the children make more worldly wishes and hopes for those people that were less fortunate than themselves.
Next week, we will start our international look at China and learning more about stories and traditions that surround the Chinese New Year.
Happy Weekend!
January 21st
Hello everyone
Over the last couple of weeks in Year R we have been finding out (and experiencing) a little more about winter. We have read some non-fiction books and have been sharing our own experiences of winter - most of which was concerned with the weather - us Brits do like to talk about the weather a lot!
We found lots of ice in the garden and looked at ways we could free the dinosaurs that had been frozen in the water overnight. We had lots of fun with the small world polar creatures too, freezing our fingers with snow and ice inside the classroom as well as outside.
We discovered that under a microscope, no two snowflakes are ever the same. We had a go at crafting some ourselves, folding paper and cutting out shapes as well as using pastels and glitter to make our very own individual snowflake designs - just like real life. We made a terrible mess in the process but are really improving our cutting skills.
Similarly, we have been looking at the clothing we need to wear to protect ourselves from the bitter wind, cold and rain and have been cutting out clothes to dress the cut-out dolls. We have also been practising our reading and writing skills by labelling pictures of children in their winter clothing.
We have been reading about animals that live in polar lands and making a fact file of interesting facts about them.
Did you know...
Polar bears have black skin and although their fur appears white, it is actually transparent.

They like to shake themselves to dry their fur - just like dogs.

One polar bear weighs as much as ten adult humans.

Penguins are birds but have chunky bodies and short flat wings which means, unlike other birds, they cannot fly.

Penguins like to surf the waves - it gets them back to shore much quicker than swimming.

An Emperor penguin female will lay an egg, but hands it over to the male who looks after it. He rests the egg on his feet to protect it from the cold and ice.
We also read a charming (and true) story about two boy penguins who live in a zoo in New York. The penguins become partners and raise a penguin chick together. We learnt that animal families can be similar to human families and made up in all sorts of different ways.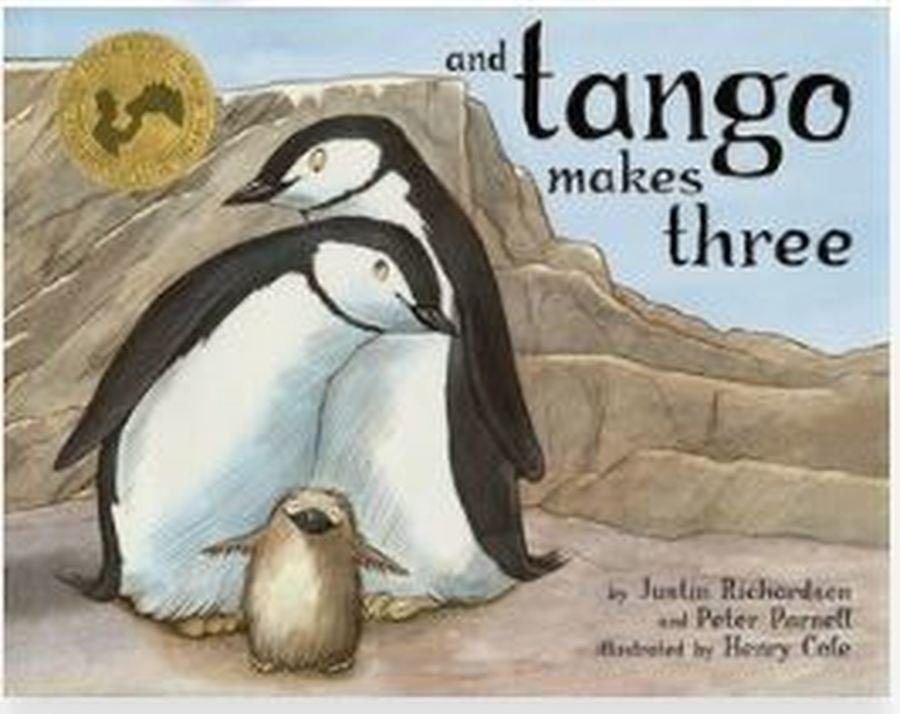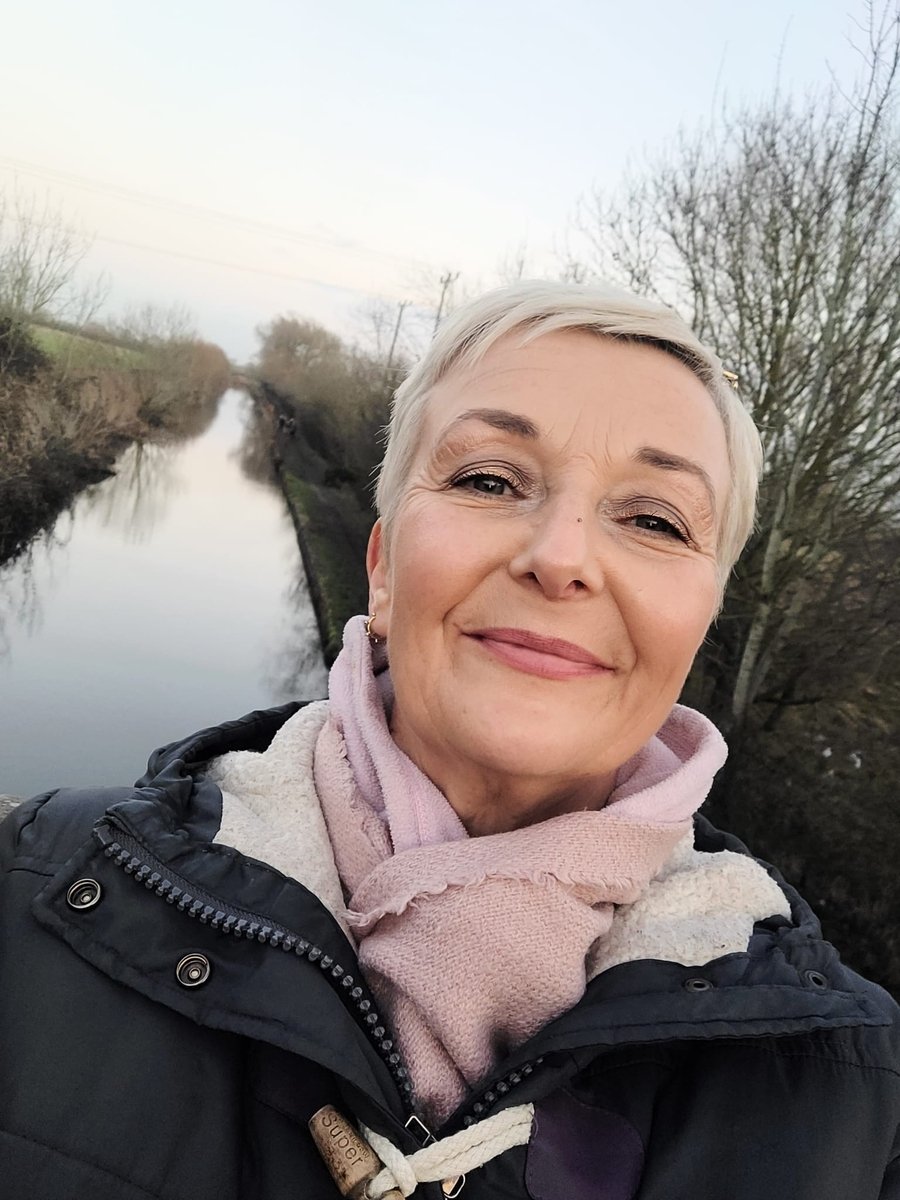 Mrs McKay
Class Teacher (Mon-Thurs)
d.mckay@brillschool.org.uk
Mrs Green
Class Teacher (Friday)
l.green@brillschool.org.uk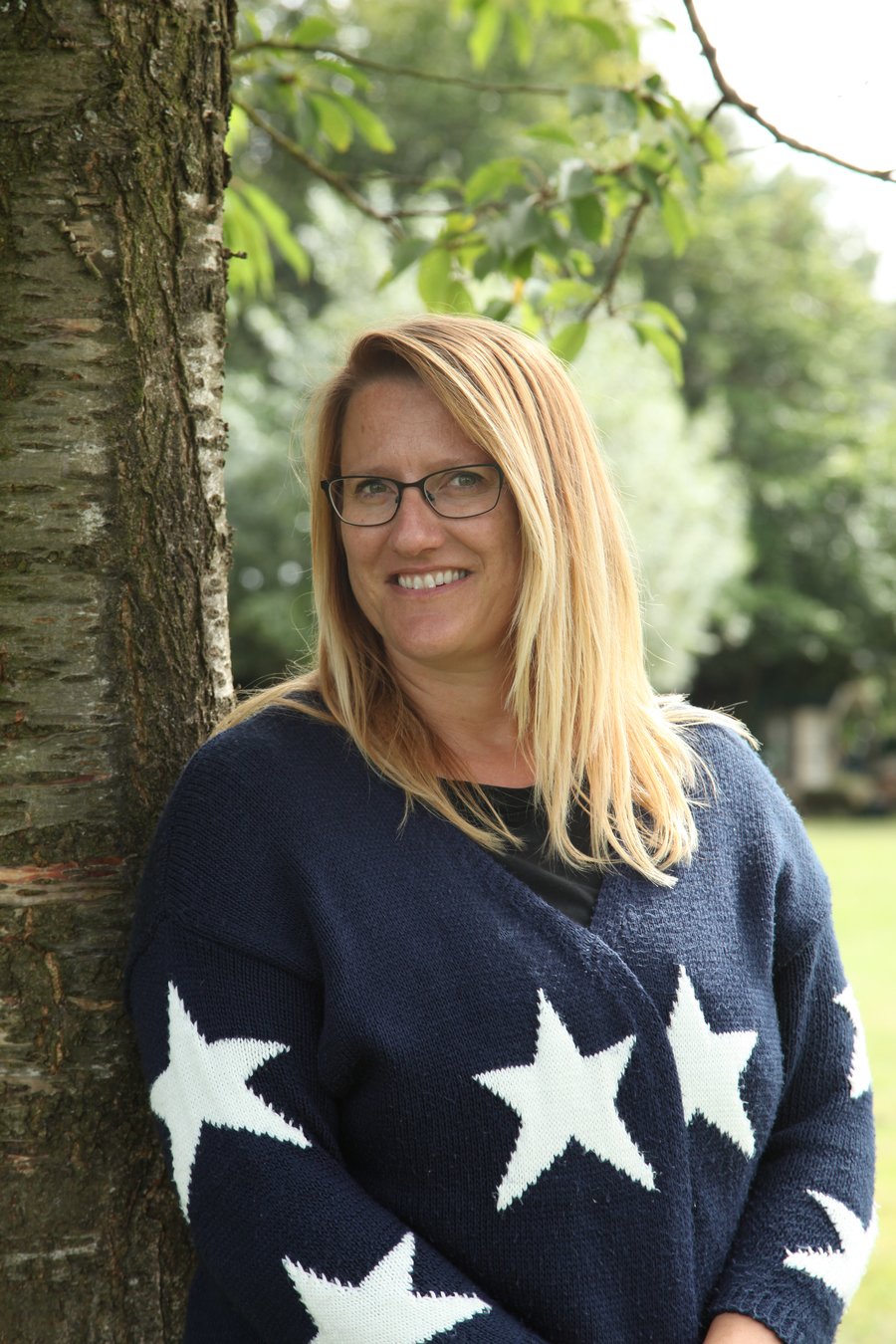 Mrs Cawston
Teaching Assistant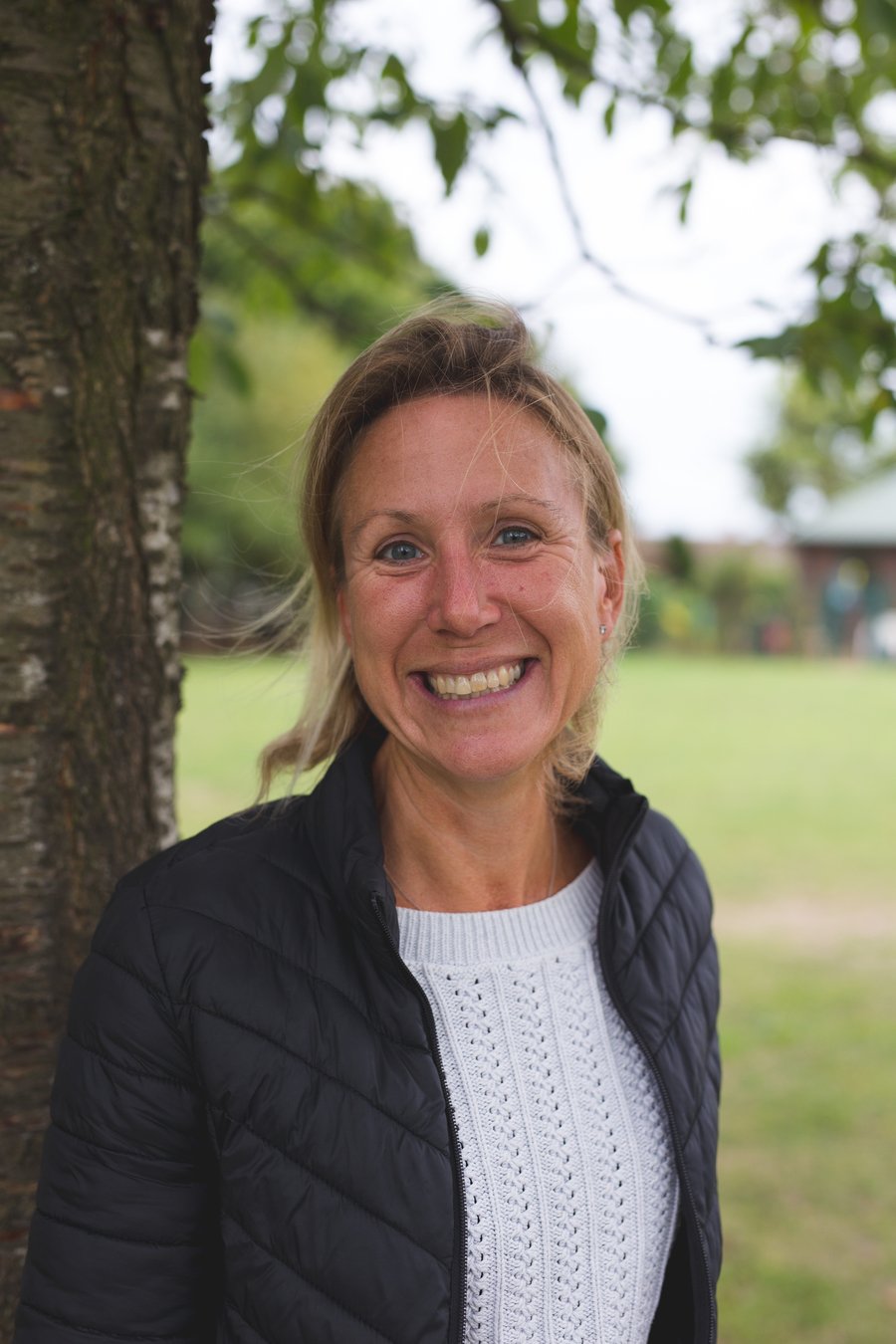 Mrs Stevens
Teaching Assistant
Year R Topic Webs
Autumn 2 2022
Bug Club Phonics
Click in the Youtube link to hear the pure sounds we use in class.
Actions to accompany letter sounds
Supporting your child's learning at home
Nurturing a love of books is such an important skill for your child to learn and will bring them great pleasure for years to come.
Please read to your child as much as possible, sharing a variety of book genres to broaden their understanding of different texts.
The children will chose a library book to take home each week and later on in the year will also take home a reading scheme book to practise their own reading.
Please complete any homework activities that are sent home, these will commence a few weeks into the new term.
Thank you.
Bug Club Reading Scheme Information
Information for parents on the new Baseline assessments for children of Reception age.
A guide for parents on the new EYFS curriculum, what to expect and when.