YEAR 5 - PARENTS INFORMATION
Welcome to Year 5!
Welcome to your class page, where you can find important information and news and find out what we are learning about during the term. The team and I are hugely excited for this term, it's going to be filled with hard work, new experiences and a chance to deepen your understanding of the world around us.
If you have any questions then please don't hesitate to email using the email address below.
Miss Stanyer e.stanyer@brillschool.org.uk
Please note that this email is not monitored during the school day as I am teaching. My admin time will be after the school day ends at 3pm, Monday to Friday. For all immediate enquiries please contact office@brillschool.org.uk
Year 5's topic units for this year are:
Autumn 1 - The Ancient Egyptians
Autumn 2 - Rivers
Spring 1 - Europe – A Study of the Alpine Region
Year 5 PE days
Year 5 PE days will be Mondays and Thursdays this term. Monday PE will be indoors, Thursday outdoors - children will need to come to school in PE kits.
If children have a sporting club after school they should come to school in their school uniform bringing their PE kit in a bag to change into at the end of the school day.
Year 5 Residential Information
For any information regarding the upcoming residential trip please see the PowerPoint below - should you have any questions please don't hesitate to email Miss Stanyer. The office team will be in touch with more information.
Spring 1 - Week 2
Our second week has been a very productive week! We have been writing our own mystery plots, where we are the detective. We started by creating suspects using character profiles, what props did our suspects have and thinking of locations where we meet our suspects. Please ask your children about their plots and suspects!
We made our way to the ICT suite for computing and the art room this week - making use of our school environment. We have responded and reflected on Yayoi Kusama - a Japanese artist who loved polka dots.
In maths we have moved on multiplication and division and used concrete manipulatives to support our learning. In humanities we have started to understand how fold mountains are formed, the Alps are an example of a fold mountain range.
Spring 1 - Week 1
For our first full week, we have gone full steam ahead and put our learning hats firmly back on, after a very well-deserved break. We have dived into adding and subtracting fractions – with the same and different denominator and we created some rules that are needed when adding with different dominators. Parents, ask your children what these rules are to see if they can remember!
In literacy we have been working on a setting description for our exciting new topic – 'The Alpine Region'. To start the unit off we dressed Henry up as an explorer to guess where our new topic might be set - we quickly identified it was going to be cold, maybe hiking up mountains and there might be some snow. The Alps of course!
We have been revisiting word classes and expanded noun phrases to create exciting, descriptive sentences for the reader. We have really understood the importance of a setting description and why they are needed in novels – otherwise we wouldn't know where to visualise our stories, would we?
During our first art lesson we explored and responded to Andy Warhol, a brilliant pop artist who has created many iconic pieces. Science has been all things forces, and we have been recruited by The Alpine Scientific Organisation to complete a series of missions before we have a go at our final assessment. What force pulls us down? Who discovered this force? And what other forces do we have acting against us?
Geography we turned to the atlases and discovered the different continents and whereabouts the Alps were located. We found that the Alps stretch over 8 countries (Austria, France, Germany, Italy, Liechtenstein, Monaco, Slovenia and Switzerland). We also looked at the difference between a physical and political map.
We danced the lesson away during PE, with a focus on climate change we choreographed movements in small groups to represent different elements of climate change.
Take a look at some of the pictures in the slide show below for a taste of what we have been doing.
End Of Autumn 2 Term
What a fantastic second half term we have had in Y5. This term we worked on our hockey skills in PE and gymnastics. In maths we conquered multiplication and division - prime numbers, square numbers and cubed numbers - and we have now moved onto fractions. Parents ask your children to explain a mixed number and improper fraction - you will be very impressed!
In literacy we have taken on many roles including news reporters, debate teams, creative dance to represent the personification of a river and we have even written to the Prime Minister. This term we became experts on our UK rivers and the pollution problems that we face and applied all this knowledge into persuasive writing, newspaper reports and formal letters.
In geography we explored the River Nile, the journey of a river and the different courses (upper, middle and lower). We cracked coding in ICT and managed to create our own computer game on Purple Mash.
Thank you to all of Y5 for all your hard work throughout our first term and I look forward to seeing you all in January. Merry Christmas and Happy New Year!
BMX Growth Mindset Workshop!
Brill School and Year 5 were very lucky to experience and take part in a BMX growth mindset workshop - led by professional BMX legend Mike Mullen. We started off the day with an assembly from Mike, whereby he spoke to the children about how it is ok to learn from failures, called a 'flearn' and in Year 5 we have adapted to this language to encourage our children to have a go at everything and it is ok if something doesn't go quite right first time round.
Have a look at some of the pictures from our Y5 children challenging themselves and using their growth mindset!
Ancient Egyptian Day Continued!
Thank you to all of the lovely parents and carers of Year 5 for the help with the amazing costumes. The children were so excited to share their costumes and to talk about who they were dressed up as.
Last week in literacy we had a unit focus of script writing, and in particular for our very own Podcasts. The children threw themselves into this unit and created AMAZING scripts in their pairs and performed this on Friday morning. The videos can be found below.
We also painted our clay artefacts that we imagined were discovered in our new friend King Tut's tomb. We have loved learning about Tutankhamun and our brains are now filled with amazing facts and information - parents I challenge you to ask the children who discovered King Tutankhamun's tomb and how long did it take this person to find it?
It wouldn't have been Ancient Egypt without some mummification - we started the process of mummifying tomatoes. We chopped the tops of the tomatoes, removed their insides (we liked to think of that as their intestines), covered tomatoes with our natron mixture (salt and baking soda) and we will leave them over half term to see what happens ...
Finally we had a bit of a dance to 'Groove like an Egyptian' which was lots of fun!
I hope you all enjoy looking through our pictures.
See you after half term.
Miss Stanyer, Mrs Freeland and Mrs Tuffley
Ancient Egyptian Day
The Year 5s travelled back in time on Friday, 5000 years ago to Ancient Egyptian civilisation. We had a day filled with podcast recording, artefact painting and mummifying tomatoes.
More exciting content to follow ...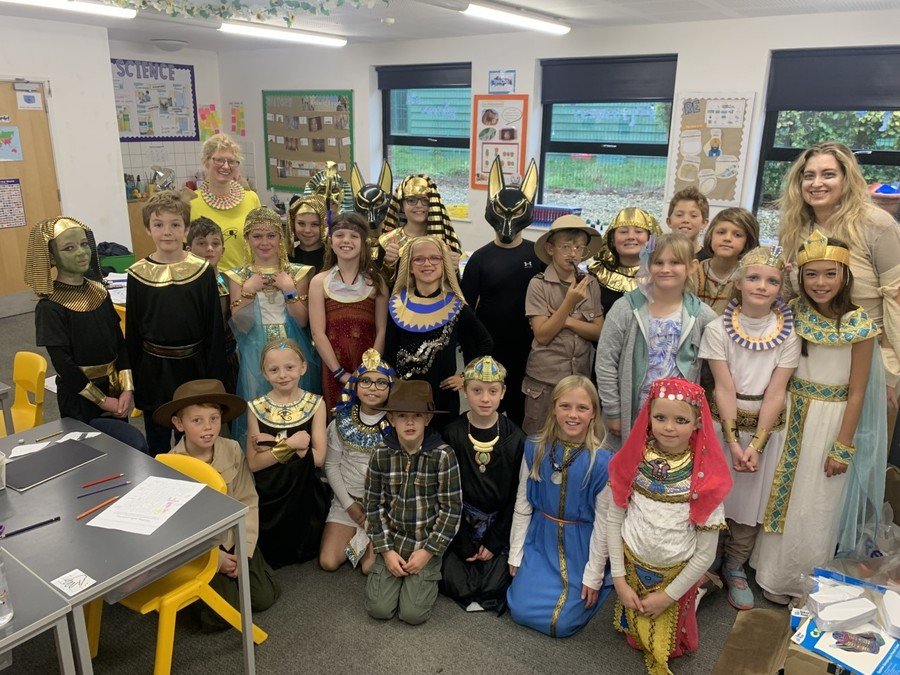 2022/2023
Autumn Term 1 - Ancient Egyptians!
During our first term studying the Ancient Egyptians we have been so busy learning about one of the earliest civilisations, the different gods and goddesses worshiped, the discovery of Tutankhamun's tomb and the role of an archaeologist.
In literacy we have been looking at many different text types including writing our very own podcast scripts, diary entries and biographies. We had a go at role playing the story of the Egyptian Cinderella and performed this at our showcase day.
Maths has been all things place value and understanding the value of each digit. We created our own board games to challenge our knowledge.
Science has had a focus of materials and we have been so busy conducting different scientific experiments and investigations! We carried out an investigation looking at soluble materials and made a pyramid using different materials fit for a purpose.
We have had a great start to the year and I hope you all have a lovely October half term break.
2021/2022
Reading Buddies for an afternoon!
Year 5 and 2 had a great time sharing stories and reading to each other. This is a new initiative beginning this summer term, giving an opportunity for the younger children to share fun characters and stories with the older children. Equally, an amazing experience for the older children.
Performing Refugee Poetry
To kick off our summer term in English, we were exploring different poems looking at refugees. There was powerful imagery, emotive language and some complex rhyming patterns. After exploring the features, we began to practice reading and performing them in groups, thinking about how we can use our voice and body to engage the audience...
Maths can be Active!
In Year 5, we have been starting our maths lessons with active games focussed on topics we have already learnt to consolidate our learning. Not only are they good for our knowledge and understanding but they are fun too!
Ways you can support your child's learning in school
Spelling
In Year 5, we have some 'Words of the Week' too. These aim to develop use of more adventurous vocabulary and sometimes these words are also related to the spelling pattern.
Year 5 have a spelling list of words that is used within lessons. These words form the basis of our weekly spelling tests.
Reading
In Year 5 the children take part in guided reading sessions, 4 times per week, where we focus on specific reading skills. We prioritise reading in Year 5, recognising that regular reading of high quality books will impact learning in a positive way. Reading appropriately pitched books will inevitably lead to an improved understanding of written material, whilst also positively impacting the childrens' writing content.
Do please encourage your child to read (and share with you) the texts from our Brill School Year 5 recommended book list.
Mathematics
Within the Year 5 curriculum, there are many times where secure knowledge of all of the times tables from x1 to x12 helps the children learn new skills and methods of calculating. Please encourage your children to frequently practise their times tables; both by rote methods and by asking questions out of order. The more secure the times tables are, the more confident your child will be in lessons when learning much of the curriculum objectives for Year 5.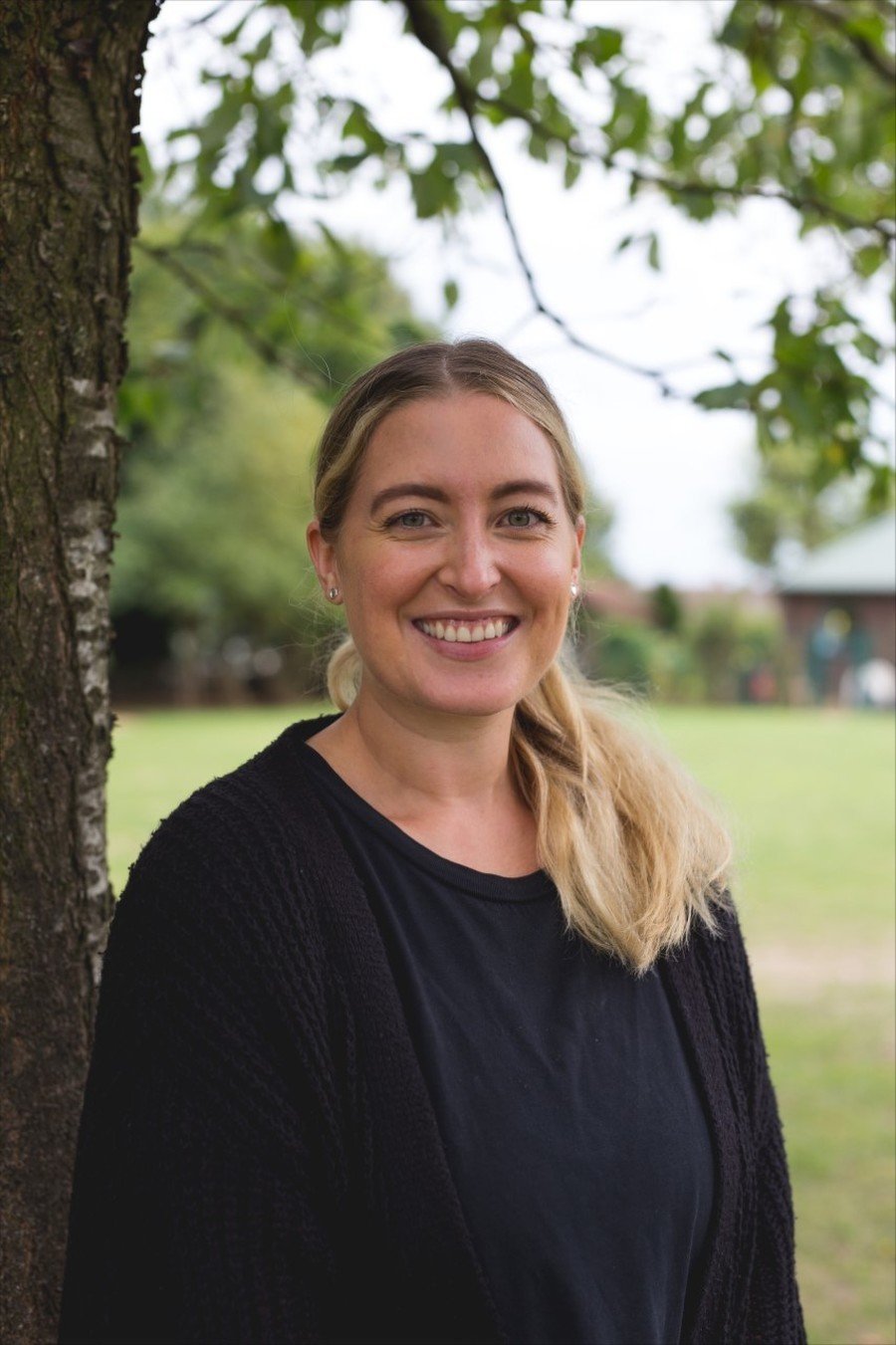 Class Teacher
Miss Stanyer
Teaching Assistant
Mrs Busby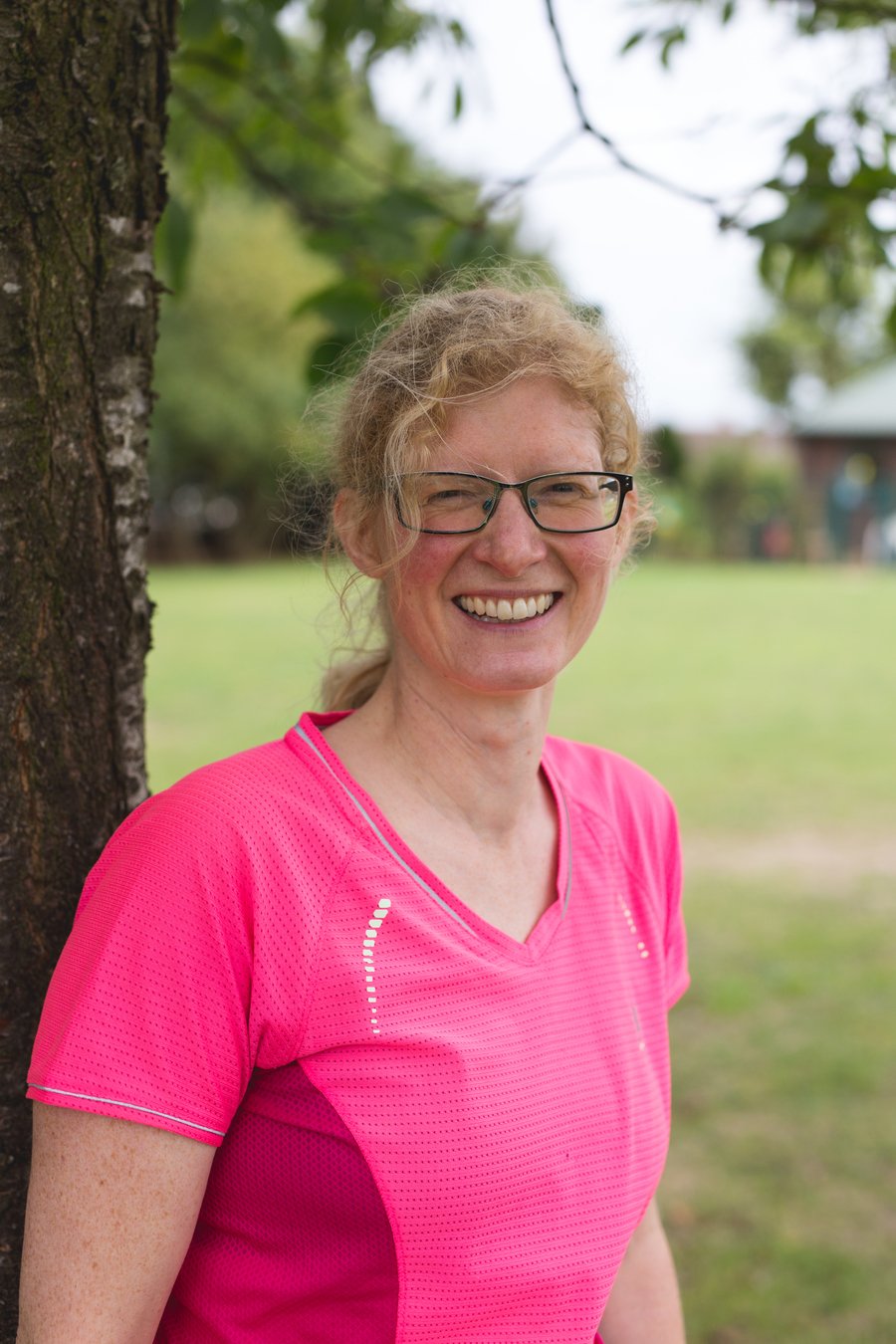 Teaching Assistant
Mrs Tuffley